Soldiers in Mali have detained the president and prime minister of the interim government, according to the United Nations and the African Union, deepening political chaos in the country just nine months after a military coup overthrew its previous leader.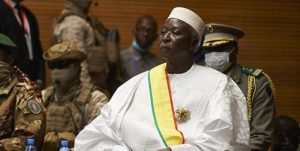 The detention of President Bah Ndaw and Prime Minister Moctar Ouane on Monday came hours after a government reshuffle left out two soldiers who led the coup in August last year and raised fears of a second military takeover.
In a joint statement, the UN and AU called for the "immediate and unconditional release" of Mali's civilian leadership and said "the international community rejects in advance any act of coercion, including forced resignations".
The United States, United Kingdom, France, Germany and the West African regional bloc known as ECOWAS also signed the statement. A delegation from ECOWAS would visit the capital, Bamako, on Tuesday, according to the statement.
Diplomatic and government sources told Reuters and AFP news agencies that Ndaw, Ouane as well as Defence Minister Souleymane Doucore were being held at a military base in Kati, outside Bamako.
AFP managed to reach Ouane briefly, and before the line cut, he told the agency that soldiers had come to get him.
The joint statement called Ndaw and Ouane's detentions "reckless" and called for Mali's political transition "to resume its course and conclude within the established timeframe".
It added: "We emphasize that the ill-considered action taken today carries the risk of weakening the mobilization of the international community in support of Mali."
Meanwhile, UN Secretary-General Antonio Guterres expressed deep concern in a Twitter post and urged calm, while European Union leaders condemned what they called the "kidnapping" of Mali's civilian leadership.
"What happened was grave and serious and we are ready to consider necessary measures," EU Council President Charles Michel told reporters after a summit of the bloc's 27 leaders.
Ndaw, a former soldier, and Ouane were sworn in September last year after Mali's generals – faced with the threat of regional sanctions – agreed to hand over power to a transitional government in the wake of an August coup that removed President Ibrahim Boubacar Keita.
Coup leader Assimi Goita was appointed as vice president and the caretaker administration was tasked with overseeing an 18-month transition back to civilian rule. Two others who were instrumental in the coup – Sadio Camara and Colonel Modibo Kone – were given the defence and security portfolios, respectively.
Camara and Kone were replaced in Monday's shuffle, although the military held onto other strategic portfolios it previously controlled.