Fourteen people have been injured after two trains belonging to a major steel company collided near Liberia's north-eastern commercial city of Ganta, on the border with Guinea, local officials and the company say.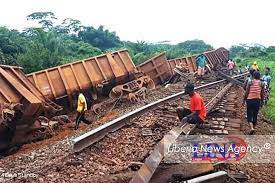 Those injured were rushed to a local hospital but some were evacuated to the capital, Monrovia, for specialist care.
A source at ArcelorMittal told the BBC that the accident had halted major operations at the company.
The source estimated the damage to be in the millions of dollars given that one of the trains was a write-off.
The company would open investigations into the incident, which was a puzzle as systems were in place to avoid these kind of things, they said.
The Luxembourg-owned company has been operating in Liberia for 25 years.
It was the first large foreign investment in the country after the end of the civil war.
The company mines and gathers high grade iron ore in the north-east and exports it through the southern port city of Buchanan, Liberia's second city. [BBC]