The authorities in Democratic Republic of Congo have ordered compulsory evacuation in parts of Goma, a city of two million just south of Mount Nyiragongo that erupted on Saturday. The order comes after a warning of further volcanic eruptions on land and under the nearby Lake Kivu.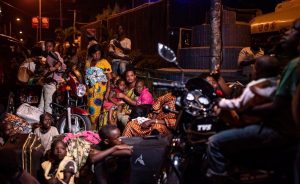 "This could happen with very little, or even without any warning" and could expose residents to the risk associated with lava flows, said Gen Costant Ndima, the military governor of North-Kivu region.
"The evacuation must be carried out calmly and without haste under the coordination of humanitarian workers.  Return to homes can only be done on the recommendation of the provincial authority," he added.
Residents have been told to carry "the bare minimum to give everyone the chance to get on board" vehicles that will be provided by the provincial authority in each district.
Mount Nyiragongo last erupted in 2002, killing 250 people and making 120,000 homeless. The volcano's deadliest eruption happened in 1977, when more than 600 people died.
The lava that flowed from Mount Nyiragongo on Saturday evening cut a path of destruction through a northern district of Goma, eastern Democratic Republic of Congo.
Around 500 houses were flattened and the UN's children's agency, Unicef, says that more than 100 children are missing after having been separated from their parents.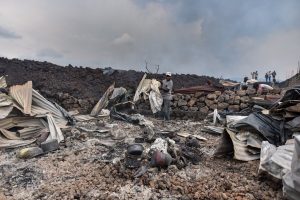 Charles Kambale (pictured above) has been sorting through the rubble in the spot in Buhene district where his house used to be.
"I have not seen my two youngest children yet," he said.
He was at a wedding with this wife when the eruption began. The children, six and two, were at home with his neighbours. He said he planned to make an announcement on the radio to help find them.
Some children have been seen picking through the rubble nearby, looking for scraps of metal or burned pots to sell. Goma's skyline lit up on Saturday as the lava erupted from a fissure in the side of the volcano.
Fearing that the lava would engulf parts of the city killing hundreds, as it did in 2002, thousands of people gathered their belongings and fled towards the nearby Rwandan border.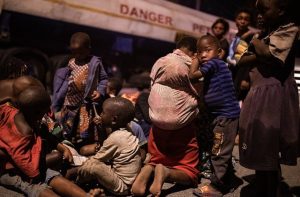 More than 3,500 people managed to get across the border on the night of the eruption amid the gridlocked traffic.
Many of Goma's residents are used to fleeing. Armed groups have terrorised the region for more than 25 years and many people who live in the city moved there after violence hit their villages close by.
More than 30 people are known to have died. In the last eruption, 250 people were killed and 120,000 were made homeless.
Some children who fled the lava flow and have been separated from their parents are staying at a centre run by the Red Cross in Goma. Red Cross workers and some government officials are trying to reunite families.