By Cleopatra Eki
An appeal has been made to government at all level to provide enabling environment for young talents to thrive as it will go a long way impacting  on national development. The call was made at an arts exhibition  in lkoyi Lagos.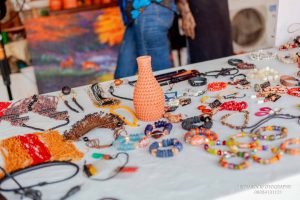 Sylvester Aguddah, Chief Executive Officer, Sylverscreen Integrated Concepts Limited, has trained young boys and girls in schools and workshops on art media including collage, mixed media, digital painting, sketches, photo art and photography. He has also groomed youth to tell their African stories. The experts has empowered some young talents on painting, photography, sculpture ,art collectors and connoisseur.
Sylvester disclosed that he is a God -taught artist, he didnt attend any arts school nor was he taught by any mentor. He appreciates God for these endowments being a self- taught artist from childhood and has been practicing for over twenty- five years.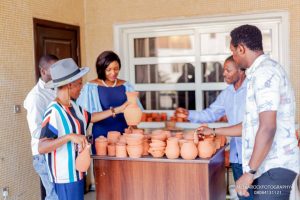 The collections of his works spread across Africa, Europe, Australia, America and Asia.  Sylvester Aguddah loves to serve humanity and provide cocktails friends during different occasions. He urged government to build and fund art villages , revive textile, paint industries and electricity.
'We are ready to empower young artists without platforms to showcase their works, tell their African stories and remain relevant in the industry'.
Speaking at the event, lfeanyichukwu Oraemeka, chief executive officer Affrornaments said  "Art Connect Africa "was birthed to promote the exhibition of decorative arts alongside fine arts and to give opportunities to the artists to exhibit their works to the public. It interprets, explores and presents the ingenuity of African arts and crafts.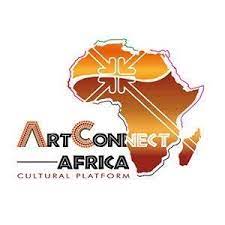 According to her, Affrornaments outfit is a creative enterprise that creates African inspired ornaments and more. lfeanyichukwu added he offers  products which includes curatorial services, Original artworks, Unique Afrocentric ornaments (for body and spaces), Ethnic and live edge furniture.
"l source for materials around me , l use cowries, seeds, recycled items, beads and local materials in Nigeria, African countries and globally for my works'.
She disclosed that if she is not doing Arts, she's doing social works as she's a humanity advocate and has years of experience working with various NGOs.
Adeola Obagun, Chief Executive officer Ablesworth Pottery said she is determined to bring back pottery into school curriculum and is strategic about teaching pottery to as many people as possible so as to elevate its importance in our culture, lifestyle and industrial application. One of the dream is to stop the importation of ceramic products which can be made in Nigeria.
Obagun urged Nigerians to embrace using clay or bricks materials because of its cooling, health effects and fire resistance for household uses , buildings and constructions.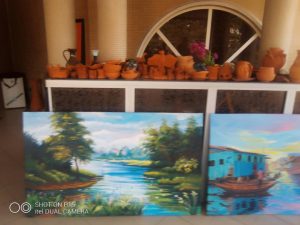 She has empowered 2000 people with ceramic and clay skills since inception of Ablesworth Pottery. She has also taken pottery trainings to schools, women's shelters, companies and individuals.
One of her trainners Chioma Ochulo a student affected by ASSU strike, said that Pottery training as a hobby along side with her interior decorations skills will boost her business.
She pointed out that Nigerians are sitting on a goldmine but sell their lands with rich minerals resources to foreign companies who refine them abroad and bring back to sell to us. As a naturalist and environmentalist, Adeola enjoys nature walks and art and owns Ablesworth Pottery Club.
Joshua Onyeka Osakwuni, a ceramic instructor has taught several persons even foreigners to start their pottery business while others get the skills, travel abroad and enhance and advance their capacities.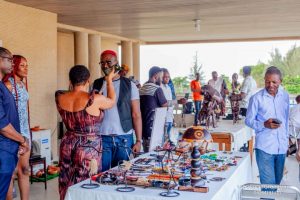 Ambassador Adharho David Obaro is a marathoner, but he does his for charity while wearing wrapper. He is also a photographer, an Arts Enthusiast and chef. He has made the Guinness Book of Records as an artist who has worn the longest wrapper.
The culture and Arts Enthusiast uses his charity marathon races to teach people instructive lessons "In life everybody has his own attitude, his own speed in life. Do not copy any one's speed. Do your own the way it suits you in life. So long as you are ready to go the extra mile, hold on to it. You will certainly get to your destination.