By Cleopatra Eki
As part of efforts to empower young artists without platforms to showcase their works, tell their African stories and remain relevant in the industry. Art Connect Africa has just concluded a 3-day exhibition showcasing the skills of Artists from across Nigeria.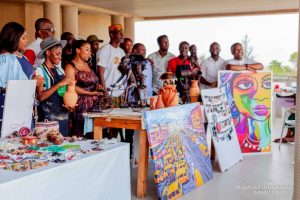 The exhibition which ran from  12pm -6pm attracted Arts enthusiasts, Arts strategists, Art lovers and members of the public to a colorful array of painting, photography, sculpture serving as avenue for art collectors, connoisseur and devotees to network and talk on the various aspects of Arts.
From the entrance of the duplex gallery venue at Prof Jubril Aminu street  Park View lkoyi Lagos where  the  exhibition held, colorful installations and displays welcomes the visitor announcing the ingenuity of Nigerians and African artists.
Speaking to Curator, Artist and  Founder AFRORNAMENT  lfeanyichukwu  Oraemeka said "Art Connect Africa " was birthed to promote the exhibition of decorative arts alongside fine arts and to give opportunity to the artists to exhibit their works to the public. It interprets, explores and presents the ingenuity of African arts and crafts.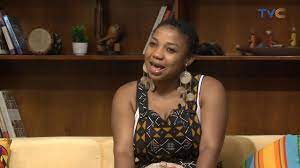 "We have the works of these 7 outstanding veteran artists  exhibited  from Sylvester Aguddah, Chief Executive Officer, Sylverscreen Integrated Concepts Limited,  Adeola Obagun,  Chief Executive officer Ablesworth Pottery, Conrad Olasubomi decker – CODE-  (Ajifamosere) CEO Enaaroko studios, Godwin Ekhanemeh, a Sculptural/visual Artist . Clarke Toritseju Favour also known as Toju Clarke, lfeanyichukwu Oraemeka, chief executive officer AFRORNAMENTS and to Oladiran Olumide Kolawole, artist and publisher of Children's arts books"
Describing her art outfit AFRORNAMENT, Oraemeka described it as an enterprise that creates African inspired ornaments and more. The art pieces exhibited are both somewhat complicated yet simple  capturing a variety of forms, shapes, sizes, materials, patterns, and connections. -she disclosed.
lfeanyichukwu added that AFRORNAMENTS offered products  which includes curatorial services, Original artworks, Unique Afrocentric ornaments (for body and spaces) Ethnic and live edge furniture.
"l source for materials around me , l use cowries, seeds, recycled items, beads, local materials in Nigeria,  African countries and globally for my works."
Collectors of her works spread across the world.
She has curated over 40 exhibitions and been widely featured on different Nigerian TV houses and print media. She is also an actress amongst many other things. She disclosed that if she is not doing Arts, she is doing social works as she's a humanity advocate and has years of experience with various NGOs.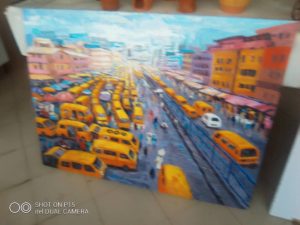 Adeola Obagun, Chief Executive officer Ablesworth Pottery said she is determined to bring back pottery into school curriculum and is strategic about teaching pottery to as many people as possible so as to elevate its importance in our culture, lifestyle and industrial application. One of her dreams is to stop the importation of ceramic products which can be made in Nigeria.
Obagun urged Nigerians to embrace the idea of using clay or brick materials because of its cooling, health effects and fire resistant nature for household uses, buildings and constructions.
She pointed out that Nigerians are sitting on a goldmine but sell their lands with rich mineral resources to foreign companies who refine them abroad and bring back to sell to us. As a naturalist and environmentalist, Adeola enjoys nature walks and art and owns Ablesworth Pottery Club.
The  former banker and  business strategist, is also a keen advocate for disability matters and is passionate about lifting others. She has taken pottery trainings to schools, women's shelters, companies and individuals.
She has also empowered up to 2000 people with ceramic and clay skills since inception of Ablesworth Pottery. One of her trainers  Chioma Ochulo a student affected by ASSU strike,  said that Pottery training as a hobby along side with her interior decorations skills will help to boost her business.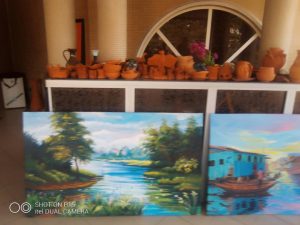 Joshua Onyeka Osakwuni, an Arts and ceramic instructor has  taught several persons  even foreigners to start their pottery business while others get the skills, travel abroad and enhance and advance their capacities.
Another prominent Artist, Sylvester Aguddah, Chief Executive Officer, Sylverscreen Integrated Concepts Limited art media includes collage, mixed media, digital painting, sketches, photo art and photography.
He is a prolific contemporary artist whose art is an ever changing and growing interpretation of his love for Africa, interactions, experiences, human knowledge and Nature appreciation. He urged government to build  and fund art villages , revive textile, paint industries and electricity.
Sylvester disclosed that he is a God-taught Artist, began drawing from childhood and has been practicing for over twenty- five years. According to him, he didn't attend any Arts school nor was he taught by any mentors. He appreciates God for these  endowments.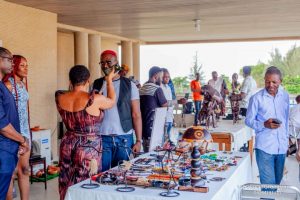 In 2015, Sylvester Aguddah founded Sylverscreen Integrated Concepts Limited, which has an art gallery, one-stop bicycle shop and tour packaging firm. His artworks are unique, rich in colour and style and has participated in over 50 exhibitions in and outside Nigeria in the last 6 years of which 42 were solo exhibitions.
Collectors of his works spread across Africa, Europe, Australia, America and Asia. Sylvester Aguddah loves  to serve  humanity and provide cocktails and snacks to clients, persons and friends during different occasions.
Ambassador Adharho David Obaro , a marathoner, but he does his for charity while wearing wrapper. He is also a photographer,  an Arts  Enthusiast and chef. He has made the Guinness Book of Records as an artist who has won the longest wrapper.
He appreciated Art Connect Exhibition for the event. "Art means different things to different people  for the rich it means luxury , beauty and fulfilment but for the  poor , Arts is  trash,  waste of time ,energy  and money  especially when they are hungry ."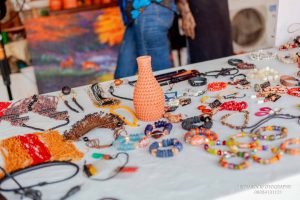 The culture and Arts  Enthusiast uses his  charity marathon races to  teach people instructive lessons  "In life everybody has his own attitude, his own speed in life.  Do not copy any one's speed.  Do your own the way it suits you in  life.  So long as you are ready to go the extra mile, hold on to it.  You will certainly get to your destination.
Speaking to Makanjuola lbrahim , Nigeria Tourism Lovers lnitator, he described Art Connect Exhibition as  lovely one, The art were really mind blowing  To  me, "Art is creativity that are breathtaking to illustrate nature to mankind . As for challenges faced by Nigeria Tourism Lovers company and arts lovers , is getting more clients for my tour packages because I am a tour operator.
Another art enthusiast, Tola Gabriel, @ATGpapaazzi, A photographer and a Tour Operator proudly showcasing and selling Nigeria destinations to the world at large.
He said that the Art connect exhibition is an event , "I would love to attend again as I was connected to the natural artifacts creative piece, I got a product for myself which is a lovely curated wooden map of Africa, as it interprets  where  l come from and how original I am, also how blessed I am being Black"
Gabriel  implores every true African that has a niche for the Art industry to do more by patronising the African tourist sites and  promote African products. "We are the wealth of the continents and our historical culture is second to none in the world."
Conrad Olasubomi decker – CODE-  (Ajifamosere) CEO Enaaroko studios, (the anthill) with his professional guiding philosophy, coined from Ena and Aroko into a new language and ideology: "Enaaroko": a thought  process through  which awareness is projected into a visual and tangible form (objectified feeling). Subomi decker (a maverick/freethinker)
His art is an ideological combination and exploration of the two age – old Yoruba system of communication. Revolutionary in concept, towards the rejuvenation of traditional African art.
His Artistic Vision: To postulate an identity, construct a character, politicize and legitimate a definition, sustain and advance a reputation  – Tunde Decker (Matrix of Inherited Identity)  from the the very core essence of visual art. Impacting Nigeria's material culture and beyond. His Artistic Mission: to aggregate and Marshall altruistically a new breed of artist, in unison with other professionals like minds, towards a cultural renewal.
He is a notable  Nigerian Artist. An Advocate of philosophical,  theoretical and practical bases of traditional African Visual Art.  He is a sculptor, Painter, potter, illustrator, poet,  dramatist, teacher and cartoonist.
Another big wig,  is Godwin Ekhanemeh, a Sculptural/visual artist. The self taught artist who is extremely talented in diverse use of various medium of recycled materials. He specializes in detailed metal art works, both light and heavy recycled metal art. As well as recycled metal furniture and Functional arts. He is also talented in the use of different medium for paintings. He also uses recycled tins, plates and rubbers for miniature toys.
He has done several exhibitions in Nigeria and in Europe both solo and group exhibitions. Mostly in Germany, Austria and Belgium. His works are collected widely by individuals and corporate organisations, both home and abroad. His notable works are in Friesland campina, Chevron, Mouka foam, Nike art gallery, Quintessence, Alexis galleries. Heritage gallery, Colours in Africa, Ethnicology arts.
Other works present were that of Clarke Toritseju Favour also known as Toju Clarke is a Nigerian Sgrafitto and Digital artist with an international record in Art. His search for a unique language of expression as seen him exploring art traditionally by scratching on canvas and digitally creating art over the past few years.
He explores by scratching on canvas also known as Sgrafitto technique focuses on the human mind, culture, Perspective, identity and mental health awareness. Using mostly Black paint to symbolize the mind and a background color to compliment the mood.
His knack for arts led him to become a top finalist at NSAC (Nigerian Student Art Contest) in 2018, Art Director for TRIBE-FEST in 2018, the Best Graphic/ Digital Art at LIMCAF (Life in my city art festival) in 2019. An off Exhibition during art biennial in Dakar Senegal 2022. He is an Alumni of Next Economy/Fate Foundation and a member of The Executive Helping Initiative.
Oladiran Olumide Kolawole is an artist of so many parts. A publisher of children art books, a painter and an experience and qualified fine art teacher.
Olumide has had 2 solo exhibition and several joint exhibition over the years.  He has had over 18 years of art teaching experiences in many international schools in Nigeria.
He is an experienced painter of over 28 years practicing as a painter, versatile in acrylic, oil on canvas as well as water colour on paper. He has executed more than 100 portrait paintings including most prominent Nigerians.
Olumide' s ten art books were approved by 3 ministries of education, namely; Lagos, Ogun and Osun state ministries of education at various school academic years.