TikTok is currently the leading destination for short-form mobile videos with its global offices in Los Angeles, New York, London, Paris, Berlin, Dubai, Mumbai, Singapore, Jakarta, Seoul, and Tokyo.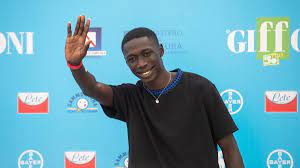 The app is used by young people as an outlet to express themselves through singing, dancing, comedy, and lip-syncing, and allows users to create videos and share them across a community.
However, TikTok hasn't been an especially welcoming place for black creators, but it hasn't dissuaded them from using and sometimes dominating the platform.
In the past year, there has been a huge surge in new content from African creators and some of them are racking up enormous followings.
Senegalese-Italian creator, Khabane "Khaby" Lame is currently the most followed TikTok creator, sitting at a cool 123.3 million followers.
Nigerian-American content creator Beverly Adaeze is the "International Slay Mama" of our dreams, with each new skit marking the comedian as a favorite among the continent and diaspora. Simply put, South African singer and songwriter Lloyiso stole hearts with each and every upload.
Nigerian-American TikToker Uyi Omorogbe's "Pissing off my African Parents" is a series that has gripped the masses, as we watch the creator push his very African parents to their limits.
Twenty twenty-one, was the year that we witnessed Somali singer Nimco Happy finally receive the recognition she deserves. Ugandan-Australian Unice Wani captured our attention after the 19-year-old model posted a video of her rendition of the popular and now globally recognized hit single Love Nwantiti by Nigerian singer and producer Ckay. Similar to that of Ckay's story,
Ghanaian singer-songwriter Amaraae had to fight to gain recognition for her smash hit ​SAD GIRLZ LUV MONEY ​as the song took off across the global video-sharing app this year.