By Cleopatra Eki
In an effort to curtail all forms of violence against women and as well help them gain the confidence they need for self-defense and self-reliance, no fewer than 30 women were empowered at the a seminar organized to mark the 2021 International Day for the Elimination of Violence against women.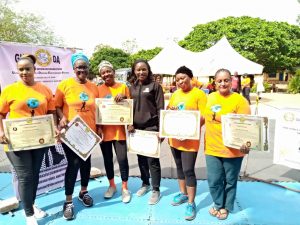 The event organized by Global Unarmed Tactical Self-defense Association (GUTS- DA) in collaboration with Chungdokwan Taekwondo Pioneers Nigeria Foundation (NCTF'72) took place in Abesan Estate High School Lagos.
Among the speakers, were Mrs. Hannah Marsh- Solade, host and President Fitness & Kickers Taekwondo Academy, Mrs. Amaka Obi, CEO Wivesaroundtable (WRT) represented by Mr. Wilson Emadomi (Ratata) WAZOBIA FM and Grandmaster Sunday Igbinedion President GUTS-DA (NIG)/NCTF'72.
Speaking at event, Amaka Chibuzo-Obi, Chief Executive Officer ,Wivesroundtable and Confidence coach emphasized that violence against women is one of the most widely spread, persistent, and devastating human rights violation in the today's world.
"Women were sometimes looked upon as objects, things to be used to beautify and gratify. Women have had to literally fight their way out of the mold society has put them in for centuries. "
"Studies have shown that, at least, 1 out of 3 women have suffered violence or abuse in their lives and this abuse can come in different shapes, styles and forms."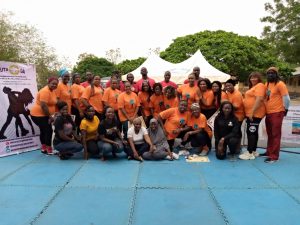 She added that unfortunately, many victims of abuse do not even recognize the fact that they are being abused, maybe because the form of abuse they are going through is not the physical type that is obvious. "We need to set the definition of abuse straight from the start, as we cannot fight a cause we cannot define. "
According to the declaration issued by UN General Assembly, violence against women is any act that result in or likely to result in physical, sexual or psychological harm or suffering to women. Did you know that 137 women are killed by a member of their family every day in the world?
"These statistics are heartbreaking, the end goal of this day and the 16 days of global activism is not only to raise awareness of this menace against women, but also to put a stop to this enduring violation. "
In connection with this year's campaign, the United Nations (UN) stresses that gender based violence against women is not inevitable and that there are effective means of preventing and stopping it, one of which is to create awareness and also impart the female gender in our communities with self-defense skills.- she pointed out.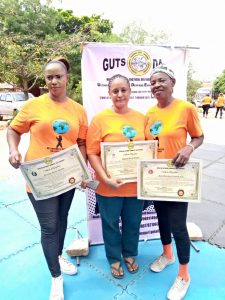 Amaka Chibuzo-Obi, said analysis has indicated that women who participate in self-defense training are less likely to experience violence or assault and when faced with such are more confident in their ability to resist these assaults, than other who haven't learnt the skill.
Existing research on women's self-defense trainings found that it has positive consequences, including improvement in self-esteem and assertiveness, reduced fear when faced with abuse.
Obi observed that "from time immemorial, women have been at the receiving end of things. In spite of being the incubator for life, literally, women have not really being given the environment to bloom, thrive and shine." There was a time women were considered not intelligent or competent enough to make decisions about anything, even things that concern them personally.
Earlier, Grandmaster Sunday Igbinedion, In his keynote address, disclosed that the programme serves dual purposes to join the rest in the world to mark the International Day for the Elimination of Violence against women campaign. He added that to impart skills of cognitive and physical self defense in women for self protection reliance.
Another Grandmaster Charles Ajayi educated the participants on GUTS-DA Beginner's course programme which covers all the beginner's skill requirement.The participants were taking through 8 Quick Escape moves from predator's abduction approach, a form of sexual assault commonly used by stranger sexual assault.
One of the participants made a general plea to people in various communities, companies and governments at all levels to support the noble programme.
She said that violence against women is an anomaly and we need collectively resist the menace. We appreciate Global Unarmed Self Defense Association for this kind gesture.
The highpoint of the event, three Zonal Representatives were given Award certificate of recognition for supporting GUTS-DA free women empowerment from inception.Among were Mrs. Hannah Marsh–Solade:- Alimosho local government area, Mrs.Anah Queenveec Kenneth Nze.- Kosofe local government area and Mrs. Precious Awotide-Amuwo Odofin local government area