By Cleopatra Eki
Nigerian youths have been advised to embrace entrepreneurship and vocational skills to be self-sustaining and productive in the society rather than wait for white -collar jobs.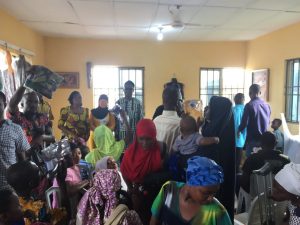 Mr Muritala Adebayo, Chief Executive officer African Crafts outfit, made the call at an empowerment and thanksgiving program held in Oshogbo Osun- State.
Addressing clusters of people with disability and others, he advised them not to be afraid but  to ensure they engage and utilize  counsels from mentors in  their chosen fields .
According to him, he decided to give back to the community by empowering persons with disability to add their quota to nation -building. "I am giving back to the society all that the Lord has endowed me with.'
He gave Adire materials and funds  to  40 people in the community, charging individuals and corporate organizations  to  show  them more love and support.
Adebayo said that the season of celebration is a season to show love to people.
''Giving has nothing to do with you having so much, but has to be from the bounty of your heart in thanksgiving for what the Lord has done.''
"There is no better time to reach out to God's children and clothe them with the free gift the Lord gave me, crowned my efforts with success, changed my story, took shame away from me. "
He disclosed that as he is blind doesn't mean he is in the dark because the Light of God has brighten his path and he sees with clearly with the eyes of heart.
"I have come to return in thanksgiving by Clothing God's children, covering their nakedness with products from the works of my hands. "
Adebayo revealed that as a visually impaired person,"I know what they are going through as people with disability. They are trying their  best but to me they are not doing enough for them. They should not give up. They should lean on God for more. They should also know that there is ability in disability."
He urged the government at all levels to provide enabling environment, policies and programme for the disable not just paying lips-service to their plights.