Russia claims its troops have taken control of the Black Sea port city of Kherson. Both the regional governor and the city's mayor say they are surrounded but deny Kherson has been occupied.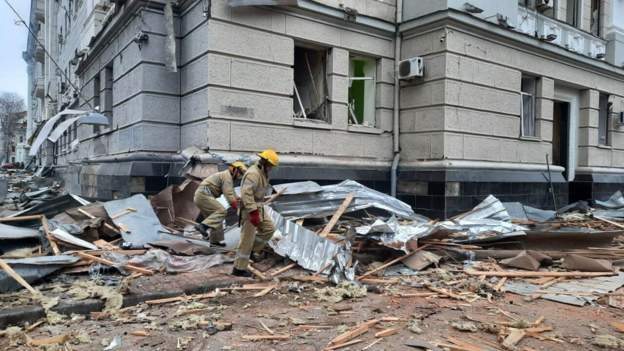 Capturing the city would be very significant, says military expert Dr Jack Watling – from the Royal United Services Institute – as it holds a strategic position on the Dnieper river which bisects Ukraine.
"As the Russians start to capture those key cities along the Dnieper… they will be able to prevent supplies moving form the west to the east to resupply Ukrainian military units that are fighting in the joint forces operations areas around the Donbas," explains Watling.
Russia will "start to strangle off the logistics for the Ukrainians" he adds. Emergency services in the eastern city of Kharkiv say four people have been killed by Russian shelling this morning.
A missile struck buildings belonging to the police, the Security Service of Ukraine, and Karazin National University at around 08:10 local time (06:10 GMT).
Photos from this morning show firefighters battling blazes at a university building and police station after the strike.
The city's mayor says Kharkiv is "partially surrounded" by the Russian army, which the Ukrainian military is currently holding back "heroically".
Meanwhile, jailed Russian opposition leader Alexei Navalny has posted a strongly-worded series of tweets calling for daily demonstrations across Russia and beyond.
Navalny has spent a year behind bars after surviving a poison attack that he blames on the Kremlin. Last month he went on trial on fresh charges that could see his prison time extended by more than a decade.
"We – Russia – want to be a nation of peace. Alas, few people would call us that now," he writes from the maximum-security prison east of Moscow where he is imprisoned.
But Russians should "at least not become a nation of frightened silent people" who "pretend not to notice the war".
"It's the third decade of the 21st Century, and we are watching news about people burning down in tanks and bombed houses," he says. "We are watching real threats to start a nuclear war on our TVs."