By Cleopatra Eki
Concerned about the missing component in young minds and businesses today, challenging parochial mindsets to provoke their critical thinking processes. Ubong King Foundation sets to hold Annual Thinkation event to empower them. "A mind that has been trained to think critically, is one that has been stretched and can take on challenging situations and think through to working solutions".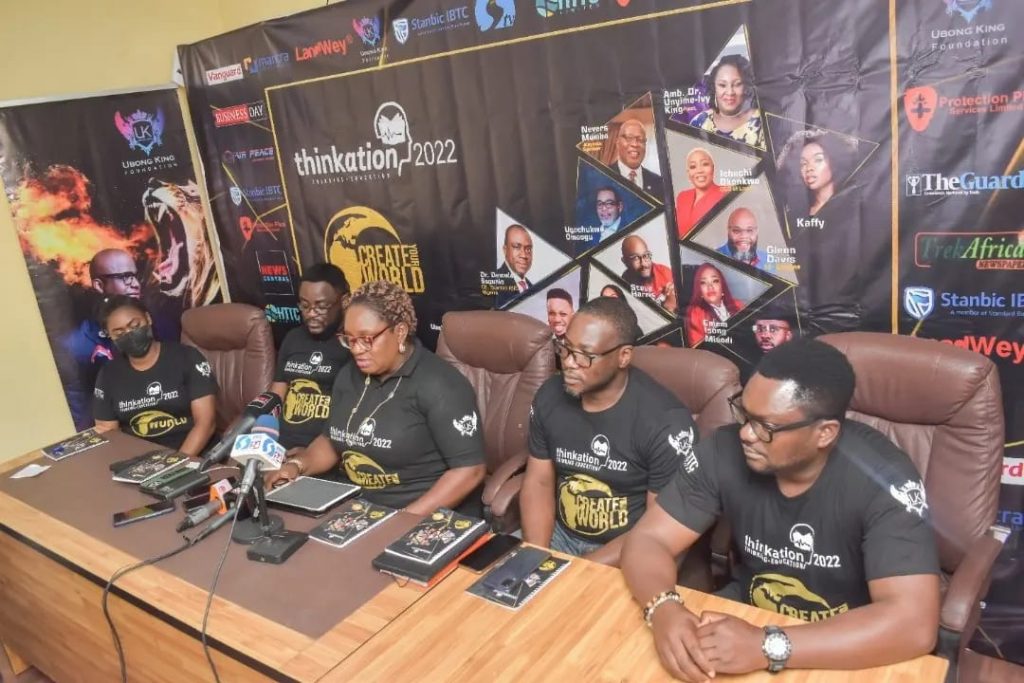 Amb. Dr. Unyime-Ivy King made the call at the annual Flagship Event of the Ubong King Foundation – Thinkation 2022 in Lagos.The 5th edition flagship event -Thinkation- and the second edition since our great Founder, Ubong King departed this side of the divide for his eternal abode on the 26th of December 2020.
The theme for this year's event : "Create Your World", a hybrid edition will hold Saturday 29th January 2022. "Thinkation" a platform which features established, transformational leaders including young and upcoming lions from different facets of life to share experience, insights and secrets that can help people achieve extraordinary impact and accelerate their personal growth trajectory in business and national development."
It is an intimate forum that presents leadership-driven conversations with quick-hitting expert presentations, followed by in-depth discussions with experts. "Africans all over the world, are celebrated for being well educated and for high and excellent performances in the educational spheres, but sadly, a lot of her communities, remain impoverished and underdeveloped.
Although Africa is richly endowed with natural resources, she has to depend on the expertise and influence from the Western World." While there is nothing wrong with the Western influence- it has its positives- it is imperative that Africans develop their minds and know what to do with what they have, in order to live in a better system. We believe that the challenges on our continent is not caused by what we do not have, but what we do have that we have failed to utilise because our thinking process is impaired by a mindset that only thinks of today, lives for the here and now, and lacks futuristic thinking!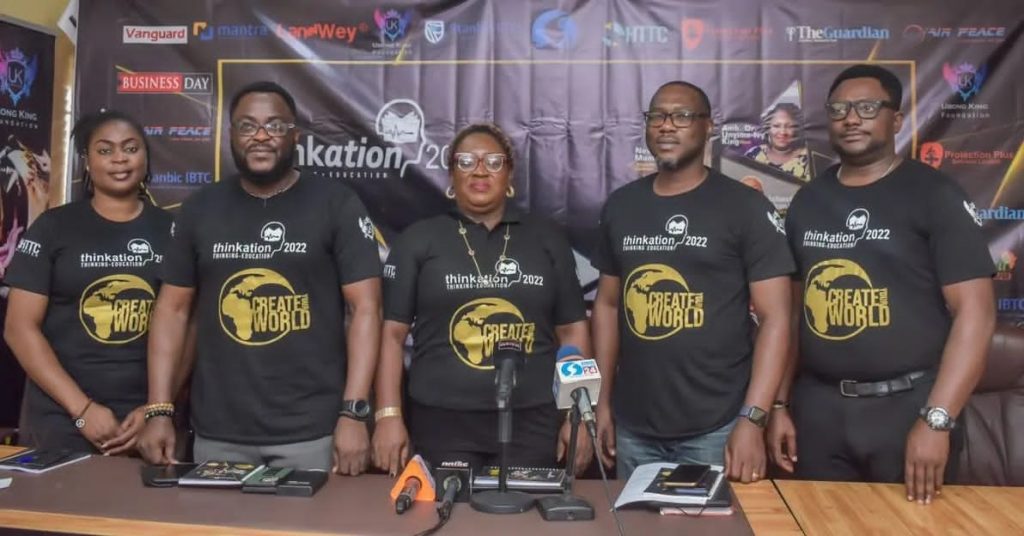 She said. "Thinkation "a flagship annual event of the Ubong King Foundation, which was conceived by our Founder- Ubong King about 5 years ago. Its maiden edition held in 2018 here in Lagos. This event was born out of the Founder's burning pain point, having known and tasted failure, and rising from the ashes of defeat to success and impactful living. His life experiences birthed a strong passion to raise young entrepreneurs with a mandate to impact their world through creative thinking, in addition to education, and also wean them from a dependency mind-set to a productive one as well as influencing the hungry minds in this generation to reposition themselves and get productive.
Ubong King Foundation heartbeat and heart cry transcend education and infuse thinking into education for phenomenal results. To get the sought of results we desire that can facilitate change on our continent, we need to exercise THINKATION (Thinking +THINKATION is a creative merger of Thinking + Education]Amb. Dr. Unyime-Ivy King appreciates organising committee of the Ubong King Foundation, friends and volunteers of the Foundation.
The Ubong King Foundation hopes to help Africans from all walks of life to bridge this critical gap by nurturing the minds and thought processes of Africans through this initiative. It is important to have the productive population of a nation well-groomed mentally to the point where they want to exceed the status quo that prevail in their surroundings, in order to attain their full potential in career, finance, health, business and relationships.Mr. Alwin Ikpe, Head , brand strategy and event said this edition is a hybrid edition. We are going to have both a virtual audience and an on site live audience simultaneously.
We are not unmindful of the COVID-19 pandemic, hence the need to control numbers but at the same time ensure that the message of this conference gains wide traction and participation, for which this conference is known. We have strong multi- media systems that all the participants both physically and virtually would have same experience.Nedi one of foundation team, said Ubong King Foundation is emersed in various projects and huge on Mentorship and reforms , the founder has "Mentor Me programme" and "Hang Out for Youths," to reform their mind in various youth circles ,students communities to empower them. He used webinars, seminars and on -line trainng to reforms youths minds for leadship and structure.
She disclosed that the foundation is repacking and restructuring all his programmmes for,highly engaging and user friendly for all."We are blessed and honoured to have worked closely with him and be part of this great work, blessed to extend his hands on this side to ensure that the great work he started continues to speak in myriads of beautiful expressions."
The Founder Ubong King may not be here in his earthly suit, but he left indelible marks on the sands of time and his legacy will continue to speak for generations after him because he built it to outlive him. This edition is coming on the heels of the memorial edition in 2021 which happened right after our Founder- Ubong King aka the Troublemaker exited this side of life.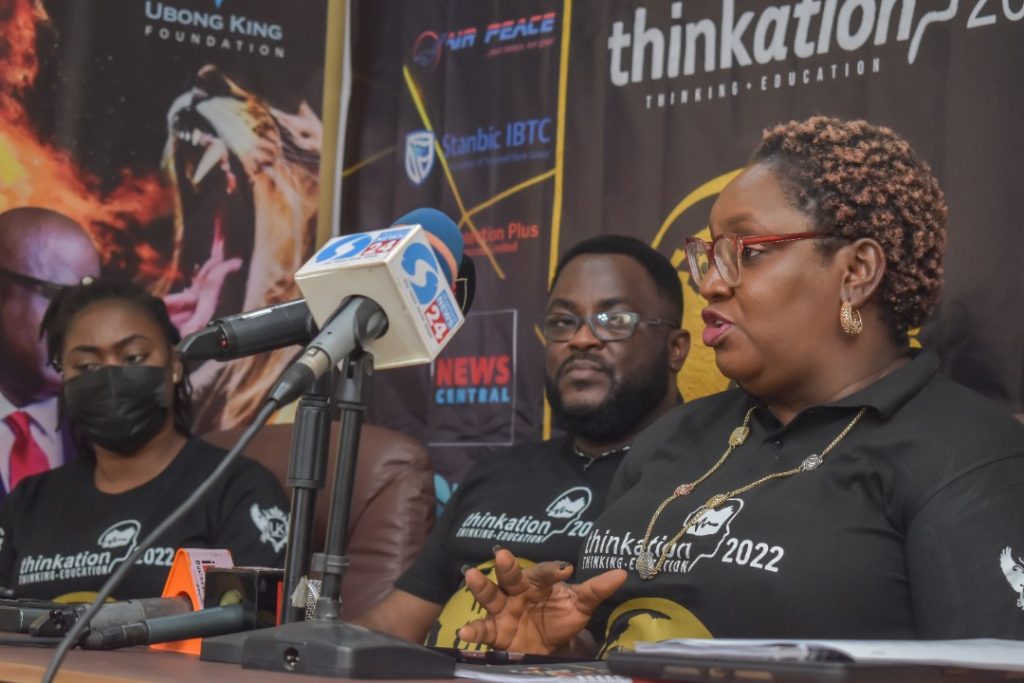 His assignment was so purpose-driven and very impactful that over a year after, his messages still continue to speak volumes and serve as a road map for budding and even established entrepreneurs.The speakers for Thinkation 2022 are great thought leaders in different fields of endeavours, prolific speakers, writers, coaches, mentors and mentees.
In their unique ways, they will share from their wealth of experiences, challenges and motivate participants to think in terms of solutions, instead of giving in to problematic situations and wallowing in despair. The speakers are set to direct participants to life and business success, using the principles that have worked for them to give clarity, direction, know-how, strategy, vision, as well as inspire them to take strategic actions to succeed.
Thinkation is a platform where successful people share their authentic stories of both victories and triumphs and how they navigated the tough times. It's also a platform where up and coming young people are given a platform for expression. This is the reason why we have the cubs – these are the teenagers who also tell their story of little beginnings which we do no despise.
We believe in catching them young. We will also have seasoned music artistes, comedians and a spoken word artiste, to add colour to the event and enrich the experience of participants at the conference. There is never a dull moment at any Thinkation conference.
Our Speakers include: Keynote Speaker-Nevers Mumba –former VP, Zambia and president of the Movement for Multiparty Democracy .Guest Speakers-Just Ibe- Economic growth and development consultant, Ugochukwu Omeogu- Chief Visionary Officer Merignos Consulting and Mentoring Ltd. Dr. Demola Sogunle – Chief Executive, Stanbic IBTC, Glenn Davis (Mr. Cologne)- Perfume Connoisseur/brand ambassador for the perfume industry.
US Navy Veteran Emem Isong Misodi- Frontline Producer & Film Maker Others are Charles O' Tudor- Brand Strategist/ group principal consultant, ADSRAT brand management ,John Obidi- New Media Consultant , Intl speaker/development Trainer Steve Harris- CEO of Edgecution Executive Panel-Topic :Create Your World, Elvis Abuyere_- Founder, Skywise Group ,Ichechi Okonkwo (CEO of Lagos)- CEO, Victoria Crest Homes, Dr.(Hon) Kafayat "Kaffy" Shafau- MD/CEO Kaffy inc ,SACO – Moderator .CUB PANEL-Oluwanifemi Dakunsi, Conquest Omofaiye,Uncle Ope – Moderator/ teen coach. For Entertainment -Doris Komla – Spoken Word Artist, Nelson Etok – Speed Artist Mc Forever – Comedy- Host, Forever Comedy ,Timi Dakolo – Music,Kasboi – Comedy/OAP Comedy Hour, Brilla FM, Esther Benyeogo – Music and Elzaphan Nkese Nsa Ayi – Music