Transnational Corporation Plc (Transcorp), Nigeria's largest listed conglomerate held its 17th Annual General Meeting (AGM) and declared a dividend of 5k per share, a 150% increase over the previous year's dividend.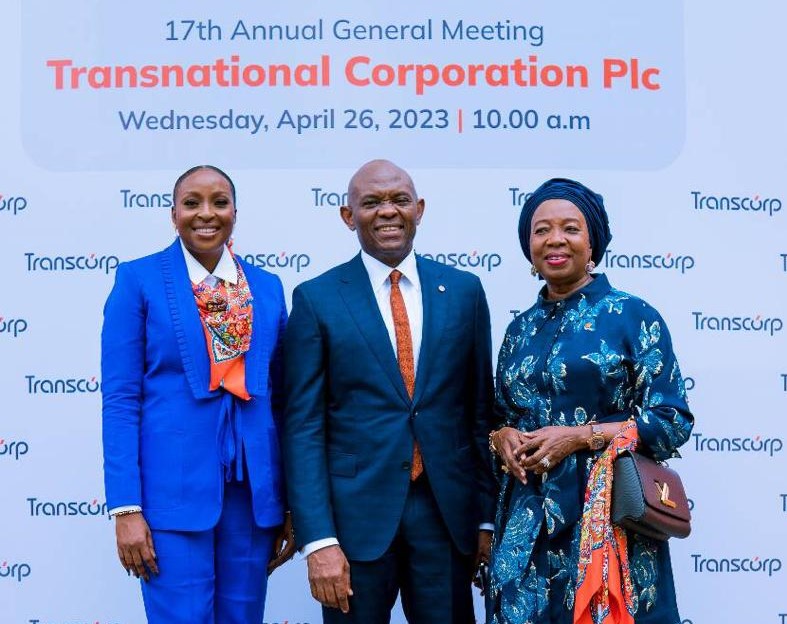 Transcorp, which has nearly 300,000 shareholders, made history as it held its AGM virtually, making it the first public company in Nigeria to do so, following the signing into law of the Business Facilitation Act (BFA), by the President of Nigeria.
Transcorp continued to deliver on its year-on-year growth strategy, with a 7% increase in the Group's total assets, growing to N442.7billion in 2022. The Company's power business increased its available and generated capacity from 598MW and 373MW, to 720MW and 426MW, respectively, following significant investment and rehabilitation of its generating assets.
Similarly, the Transcorp hospitality business demonstrated its growth trajectory, achieving a record average occupancy rate of 79%, with profit increasing by 172% to N4.5 billion in 2022, from N1.7 billion in the previous year, while revenue grew by 47% to N31.4 billion, from N21.4 billion in 2021.
Profit after tax for the Group declined from N23.8 billion to N16.8 billion, as a result of the provision of N7 billion for deferred tax and exceptional income of N4.5 billion recognised in 2021, derived from the consolidation of Transafam Power Limited.
Group Chairman, Tony O. Elumelu, CFR, noted that the Group recorded significant improvements across all key financial and non-financial parameters in 2022. The Group's Gross Earnings increased to N134.7 billion and Profit Before Tax to N30.2 billion.
Commenting on the Group's performance, Elumelu said, "2022 proved to be another strong year for Transcorp, we continued to optimize and expand our portfolio of investments, amidst a challenging operating and economic environment.
The impact of our long-term investment approach is beginning to be appreciated by the market, with a growth in share price from N0.96 in January 2022 to N2.69 as at close of market yesterday, April 26, 2023.
"And we continue to deliver to investors, with a dividend of N2 billion being paid to shareholders, representing a 150% increase over the 2021 payment." 2022 will be the 5th consecutive year of unbroken dividends payment by Transcorp, since the Elumelu led team assumed leadership of the conglomerate. Prior to the change in ownership and management in 2011, Transcorp had operated since inception without dividends to its shareholders."
Speaking on the Group's performance, the President of Transcorp Group, Dr. Owen Omogiafo, stated that the Group's success is attributable to its focus on key sectors of the economy, its commitment to investment and its ability to drive execution.
"We are strategically positioned and committed to enhanced performance, providing value-adding returns for all stakeholders, and making a positive societal impact. As we move forward, we remain fully dedicated and focused on realizing this vision. With the relentless efforts of our team, we are poised to achieve remarkable growth and success for years to come."
Shareholders at the AGM lauded the company's professionalism and commitment to growing value for shareholders, stressing that the fully virtual AGM is one of the many firsts Transcorp has achieved. Dr. Faruk Umar of Advancement of Shareholder Rights Association said "We are very happy with the Board and Management of Transcorp.
They promised us that as the Company grows, value for shareholders will grow. Today we have seen our dividend, that has increased by 500% under the Elumelu leadership and our share price has also appreciated. We also want to commend the professionalism of the Board for deciding to hold the AGM virtually, making it easier for us to join and make all of us to be more informed".
Transcorp's commitment to social responsibility was also highlighted at the AGM. The Group has continued to contribute to Nigeria's sustainable development, particularly in the areas of education, community development, and environmental sustainability.
As a responsible corporate citizen, Transcorp embraces Environmental, Social, and Governance (ESG) criteria in all aspects of its business dealings and investment decisions. Transcorp remains unwavering in its commitment to sustainable growth, ensuring consistency and an efficient organisation driven by a mission to deliver long-term value.
Transnational Corporation Plc (Transcorp Group) is a publicly quoted Conglomerate, with a diversified shareholder base of approximately 300,000. Its portfolio comprises strategic investments in the power, hospitality, and oil and gas sectors. Its businesses include Transcorp Hilton Abuja, Transcorp Hotels Calabar, Aura by Transcorp Hotels, Transcorp Power, Transafam Power, and Transcorp Energy.