President Bola Tinubu has expressed sadness and concern over the tragic death of two-year-old Ivan Omhonrina, who was killed by a stray bullet during an operation conducted by officers of the National Drugs Law Enforcement Agency (NDLEA) in Okpanam, Oshimili North Local Government Area of Delta State.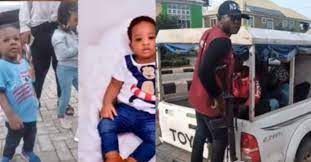 In response to the incident, President Tinubu has directed the NDLEA management to conduct a thorough investigation into the matter and ensure that those responsible for the death of Ivan are brought to justice.
In a statement issued by his spokesman, Dele Alake, President Tinubu extended his heartfelt condolences to the grieving parents of Ivan Omhonrina, empathizing with the pain and anguish they must be experiencing.
He emphasized that Ivan did not deserve to meet such a tragic fate and stressed the importance of preventing similar incidents from occurring in the future. President Tinubu also expressed his prayers for the swift recovery of Eronmonsele, who sustained injuries during the unfortunate event.
The President strongly condemned the incident, describing it as unacceptable. He urged security agents to exercise greater professionalism and caution in the course of their operations to avoid endangering the lives of innocent Nigerian citizens.
Governor Sheriff Oborevwori of Delta State also visited the Omhonrina family at the Federal Medical Centre in Asaba, where Ivan's one-year-old sibling, Eromonsele, is currently receiving treatment for injuries sustained during the incident. Governor Oborevwori extended his condolences to the family and assured them that the state government would support the ongoing investigations by the police and NDLEA authorities. He expressed confidence in the authorities' ability to bring the culprits to justice.
Meanwhile, the House of Representatives has called on the Inspector General of Police (IGP) to take over the investigation and prosecution of the officers involved in the shooting and killing of Ivan Omhonrina. The House emphasized the need for law enforcement agencies, including the NDLEA, to provide regular training and sensitization programs for their officers on the appropriate use of firearms, conflict resolution, de-escalation techniques, and respect for human rights.
Additionally, the House mandated its Committee on Human Rights and National Security and Intelligence to ensure that the family of Ivan Omhonrina receives adequate compensation for their loss. The committee is expected to provide a report on the matter within six weeks.
The tragic death of Ivan Omhonrina has sparked outrage and calls for justice from various quarters. The Nigerian authorities are now under increased pressure to conduct a swift and transparent investigation to bring the perpetrators to account and prevent such incidents from occurring in the future.