Nigeria Labour Congress (NLC) has decided to suspend its previously announced indefinite strike action, which was scheduled to begin today, following extensive negotiations with the Federal Government. The decision to suspend the strike came after the government made concrete agreements to address several labor demands during a series of meetings.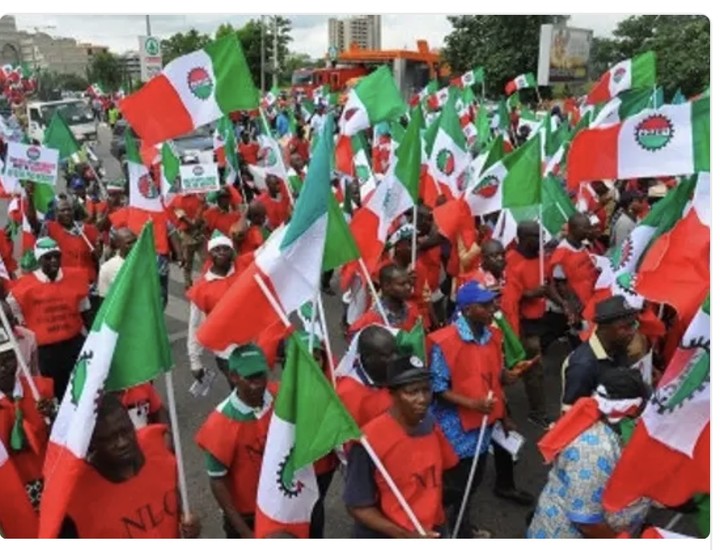 As part of the agreements reached, the strike has been suspended for 30 days to allow the government to fulfill the terms of the agreement. These negotiations took place after a shift in the government's position, resulting in a N35,000 wage increase for federal workers across all ranks.
Indications had earlier emerged that the planned nationwide strike would be suspended when officials of the Nigeria Labour Congress (NLC) and Trade Union Congress of Nigeria (TUC) returned to the Presidential Villa, Abuja, yesterday evening to conclude negotiations with the Federal Government, especially after a shift in government position on Sunday night, resulting in the N35,000 wage top-up across all ranks for federal workers.
Owing to trust deficit between Labour and government, both parties had to lock themselves last night in another marathon meeting to fine-tune details of the agreements reached and signed a Memorandum of Understanding (MoU) binding on all parties.
The MoU, a copy of which was sighted by The Guardian last night, and which was signed by NLC President, Joe Ajaero and General Secretary, Emmanuel Ugboaja; TUC President, Festus Osifo and Secretary-General, Nuhu Toro; and Federal Government delegation: Minister of Labour and Employment, Simon Bako Lalong, Minister of State for Labour and Employment, Dr. Nkeiruka Onyejeocha, and Minister of Information and National Orientation, Mohammed Idris, had 15-point agreements.
Top on the agreements reached were: Federal Government grants a wage award of N35,000 to all Federal Government workers beginning from September, pending when a new national minimum wage is expected to have been signed into law; a minimum wage committee to be inaugurated within one month from the date of the agreement; suspension of Value Added Tax (VAT) collection on diesel for six months beginning from October 2023; a vote by Federal Government of N100 billion for the provision of high capacity CNG buses for mass transit in Nigeria; and government plan to implement various tax incentive measures for private sector and the general public.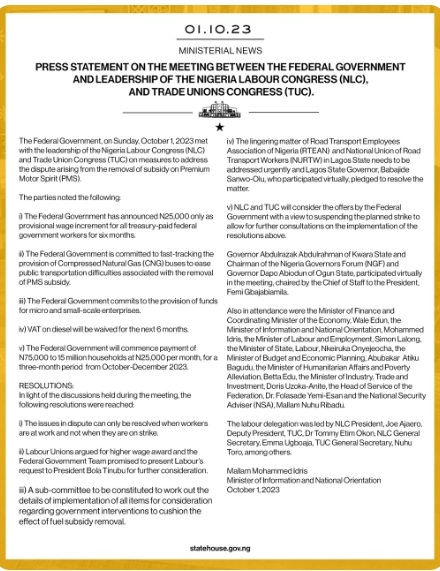 Also on the agreement reached were a resolution in line with relevant ILO Conventions and Nigerian Labour Acts on the leadership crises rocking the NURTW and purported proscription of RTEAN on or before October 13; outstanding Salaries and Wages of Tertiary Education workers in Federal-owned educational institutions referred to Ministry of Labour and Employment for further engagement; Federal Government's commitment to pay N25,000 per month for three months starting from October 2023 to 15 million households, including vulnerable pensioners; increase in its initiatives on subsidized distribution of fertilizers to farmers across the country; and a call out to state government through the National Economic Council and Governors Forum to implement wage award for their workers, with similar consideration to be given to local government and private sector workers.
The last leg of the 15-point agreements also include: Federal Government's commitment to the provision of funds as announced by the President on August 1 broadcast for Micro and Small Scale Enterprises (MSMEs); joint visitation to be made to the refineries to ascertain their rehabilitation status; all parties committing to abide by the dictates of social dialogue in all future engagements; and the NLC and TUC accepting to suspend for 30 days the planned indefinite nationwide strike earlier scheduled to begin today, while the MoU will be filed with the relevant Court of competent jurisdiction within one week as consent judgment by the Federal Government.