In what he described as 'dogged patriotism', the Lagos state Governor Babatunde Sanwo-olu has commended the Director General National Council for Arts and culture Otunba Segun Runsewe in celebration of his efforts in promoting Nigeria's unity and cohesion.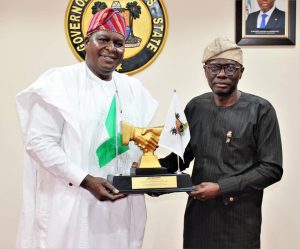 The Governor, highly elated at Runsewe's promotion of Nigeria's indigenous fashion and in full revelation of the beauty of south-south dress pattern, praised Runsewe for always putting Nigeria first in his manner of speech, public conduct, dress sense and above all consistent call for the best of Nigerian culture and tradition.
Governor Sanwo Olu who received Runsewe and select members of technical committee on NAFEST insisted that Lagos state will bring a new vista to hosting of NAFEST in November, noting that the unity of Nigeria should be paramount in the effort of using culture as a vehicle of promoting National unity and cohesion.
Earlier in his address to the Governor, Otunba Segun Runsewe disclosed that the technical committee for NAFEST 2022 was in Lagos to put finishing touches to preparation on the iconic cultural event, appreciating the Governor for hosting the technical committee and making all participants feel at home in Lagos.
He assured the Governor that NCAC will not fail in the mission to use Culture and Arts to bring Nigerians together, vocalize the advocacy for love and temperance among Nigerians, and bring all shades of opinion in Nigeria to love and respect each other.
Lagos State Governor, also called on Nigerians to use the forthcoming National Festival of Arts and Culture (NAFEST) to project the country's unity.
He implored Nigerians to see their diversity, ethnicity and religious tolerance as an opportunity to unite without allowing politics or religion divide them.
He said bringing NAFEST to Lagos at this very difficult time in the country is an opportunity for the Festival to be "used as a means to galvanise the country. The NAFEST 2022 in Lagos by the grace of God will be used to heal this country. It will be used to bring together our diversity in unity."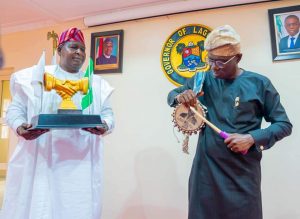 According to him, "if sports can bring us together, arts, culture and entertainment can do better. And if we do it and package it very well before we go into the general elections in 2023, we would have used that platform to heal the country. We would have used it for people to see that we don't have any other place to go to. We have a responsibility to fix it (Nigeria).
"We should see the NAFEST not just as a festivity but as an opportunity for us to come together, heal and project unity for our country. And ensure that if we can go into next year with all of the tribulations and fears that we have; we will suppress them, surpass them and have elections that will be free, and peaceful, and we can build a better and bigger nation that would be the envy of the world. That is what I am looking forward to."
"Let us see our diversity as an opportunity to unite us. Let us see our ethnicity as an opportunity to unite us. Let us see our religious tolerance as an opportunity to unite us. We should not allow politics and other things to divide us. I am a strong believer of arts, culture and entertainment as a unifier and simple language that knows no tribe, ethnicity and religious bias."
Governor Sanwo-Olu also disclosed that Lagos State, apart from hosting NAFEST in November, would also commission the biggest and best African museum, the JK Randle Museum for Arts and Culture and host the United Nations World Tourism Organisation and art exhibition in November.
Runsewe commended Governor Sanwo-Olu's commitment to promoting tourism, arts and culture, noting that the decision of the government to make Entertainment and Tourism a fifth pillar in the six-pillar THEMES developmental agenda for Greater Lagos is commendable.