The awards presented on Monday at the ongoing 18th AKWAABA Africa Travel and Tourism Market held in Lagos formed the highlights of this year's edition of the annual African Travel Market Show which started eighteen years ago.
Other recipients include Dr Keziah Odemba, Director of Tourism, Ministry of Tourism and Wildlife, Kenya and Justina Okpanku, Thisday Editor, Maimuna Mohammed, Corporate Account Manager, Heritage Hotels, Kenya; and Leah Assenga, Founder, Kitamu Africa and Arusha Tanzania.
Convener of the event Mr. Ikechi Uko, described the awards as one coming against the backdrop on the need to raise the flag for women who have worked hard in promoting tourism in the African continent.
According to him, Akwaaba was conceived with a view to creating a forum for African Busineses in the Tourism and Travel sector to meet with other businesses in the sector, thus promoting collective growth in the continent.
He said the Awardees are women who have shown exemplary leadership qualities in their various offices and are as a result  worthy of emulation by upcoming practitioners.
"It also signifies inspiration and appreciation of work done, this means more work, more commitment and it is about the need to embrace leadership qualities.
"This is a very important event in promoting the interest of women in tourism and I must doff my hat for this wonderful work that helps in recognizing the women that are actually doing the work.
"I want to thank the people of Nigeria and Lagos State Government for supporting AKWAABA, we in the rest of West Africa can see this wonderful work.
"We are contemplating that Sierra Leone will host this expo soon," she said.
Pratt urged Africans to visit Sierra Leone for tourism purposes as she described Sierra Leoneans as friendly and hospitable individuals.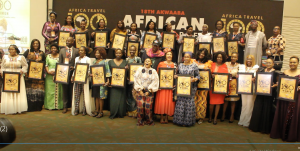 According to her, the country is well endowed with exotic beaches, historical sites and other forms of attractions.
"We really appreciate Nigerians, there is a strong bond between Nigerians and Sierra Leoneans, we want to recall the period we had the civil war, Nigerians stood by us and we will never forget that, we want that bond between the two countries to be stronger," she said.
Also, Akinbile-Yusuf, said, " I feel so honoured to be a recipient of this award, there are many women doing great things in the tourism industry, I appreciate AKWAABA platform for this."
Earlier, Oba Adeyemi Obalanlege, the Olota of Ota, commended the appreciable improvement in the tourism industry, being a practitioner in the industry for years.
"The organizer of this travel market, Ikechi Uko, is a blessing to the tourism industry, we have recorded much improvement in the industry over the years.
"Before now, we used to have low patronage in events like this and I am happy with the turnout now.
"You can always count on me, I will always support you and I pray that the country will continue to move forward," he said