By Cleopatra Eki
United Nations, Stakeholders have canvassed for programmes and Polices for ending violence against Widows and their children, poverty alleviation, education and other support to widows of all ages .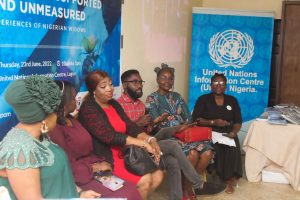 Representing United Nations Secretary, Mr Ronald Kayanja, Director UNIC made a call at  Widows event  with the theme -" Widows : Unseen, unsupported and unmeasured: Voices and experiences  of Nigerian Widows "held in lkoyi Lagos.
Some of the  stakeholders present both in-line Ministry of  Women  Affairs, Federal  Republic of Nigeria ,AAAF, SpeakingFingers Network,  Widows Advocacy Coalition  in Nigeria  [WACIN],  Head  High  Organisation,Women Laws and Development Centre Lagos.
The UN  draws attention to the voices and experiences of widows and galvanize the unique support that they need.  "For many women around the world, the devastating loss of a partner is magnified by a long-term fight for their basic rights and dignity. Even though there are more than 258 million widows around the world, have historically been left unseen, unsupported, and unmeasured in our societies".
"'Tens of thousands of women have been widowed by the virus (COVID 19 Pandemic) and may be grieving, while cut off their usual socio-economic and family supports".
"As Nations continue to fight the virus on the front lines or begin recovery efforts, widows must not be left out of economic stimulus and social assistance programmes."
Ronald Kayanja urged  them to end discriminatory laws and patriarchal systems that have long disadvantaged women.
Women cannot inherit equally as men in 36 countries, cannot be heads of households or families in 31 countries and cannot have a job or pursue a profession in 17 states. Such discriminatory laws, which rob widows of property, shelter, income, social benefits, and opportunity must be struck down to advance women's rights worldwide.
Kayanja concluded that empower widows to support themselves and their families and live dignity by ensuring access to education and training opportunities, decent work and equal pay, and by reversing social stigmas that exclude, discriminate or lead harmful and violent practices against widows.
Mrs  Foluke Ademokun, Executive Co-ordinator,Ajoke Ayisat Afolabi Foundation,  stated  that empowering widows to support themselves and their families also means addressing social stigma as that create exclusion, and discriminatory or harmful practices.
The foundation investment in education for children is informed by how low level of education entrench widow-headed households in poverty and by extension poor nutrition, poor health and poor housing. These combined increase the vulnerability of widow-headed households. Innovative social protection strategies that deploy investment into technology, information management, education and entrepreneurial skills are critical to ejecting widow-headed households from poverty.
It is important that post-COVID 19 recovery efforts are extended widows, particularly, because of the emerging young demographics.
Through collaborative efforts we can embolden data management processes on widows, harmonise interventions and make our work flourish. In the face of ravaging pandemic, this is the time for the state to develop functional social protections strategies that are diversed, inclusive, transparent and adaptive in the delivery of women empowerment programmes.
While the state tries to reframe the concept of who sit around the decision tables on widows priorities and needs, women themselves must present for work as they shun the toga of welfares.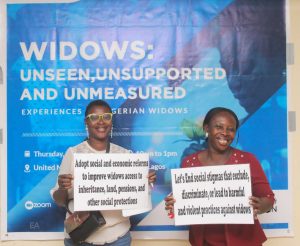 Mrs Hope   Nwakwesi Ifeyinwa, Co -convener, Widows Advocacy Coalition  in Nigeria  [WACIN] said there are  several NGOS doing related related  works , such NGOS should have data base   of widows and working collectively to address the widows plights. She added WACIN is ready to spearhead the  course of all the widows.
Mr. Abayomi Bamidele Adisa, Senior Journalist BBC  observed that" Most  widows plights are not well reported, since   alot  widows are sad about the new status and  do not want publicity. He disclosed the media willing to project  the challlenges and achievement of widows
Barrister Mandy Asogba, President African Women Lawyers Association advised widows  who are facing  legal issues,domestic violence, should speak up, so they can be help with relevant information, capacities offered by the group. She also appreciated those agencies like  Ministry of Women Affairs and Poverty and alleviation,  Lagos state domestic Gender Based Violence  team handle  victims in the society.
According to her," Widows' children be protected from toxic families and environment, they need to be protected, nurtured and groom in safe environment or home.
Dr. Keziah Awosika, Executive  Director Women Laws and Development Centre Lagos,advised widows to empower themselves and children  because they vulnerable in society.
Convener SpeakingFingers Network,Treasures Uchegbu,added that no persons should be left behind if we consistently build a network of helping one another  for a better society  " We deeply appreciate all the efforts of stakeholders support to the widows-she pointed.
The high point was  grants was given to widows,books  titled Broken but not Forgotten"published by "AAAF ,Courtesy of Mrs.Adeola Oduyemi, some persons will be going home with Blood Pressure Monitors. Having just been widowed, herself, Ms Odeyemi has taken steps to address a critical gap contributing to widowhood in Nigeria.Appreciating UN,Hon. Minister, Abia State commissioner