President Bola Tinubu has fulfilled his promise to liberalize education funding in the country by signing the Students Loan Bill into law. The President's media team, led by Dele Alake, announced this significant development to the press yesterday evening.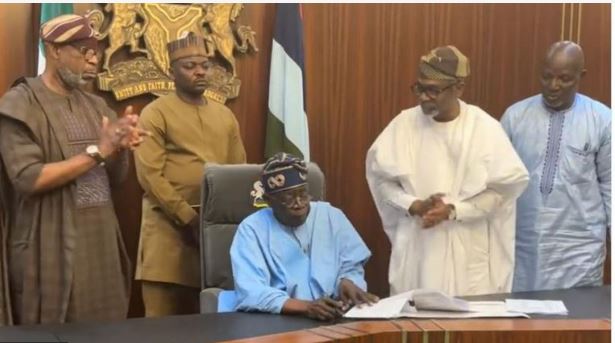 Accompanied by other members of the Presidential Strategic Team, including Tunde Rahman and Abdulaziz Abdulaziz, as well as the Permanent Secretary of the Ministry of Education, David Adejoh, Alake explained that the new law aims to enable indigent students to access education without facing financial challenges.
Addressing concerns about potential inflation in school fees, Alake clarified that the Students Loan Bill and its implementation are unrelated to such issues. The primary objective of the law is to assist students from financially disadvantaged backgrounds in pursuing their education dreams. With the signing of the bill into law, Tinubu has kept his campaign promise to prioritize student loans and place them at the forefront of the national agenda.
The Students Loan Bill signifies a significant step towards creating equal educational opportunities for all Nigerian students, regardless of their economic circumstances. By providing access to education loans, the government aims to bridge the financial gap that often hinders deserving students from pursuing higher education. This initiative is expected to empower a new generation of students and contribute to the overall development of the country.
The signing of the bill demonstrates President Tinubu's commitment to education and his recognition of its pivotal role in the nation's progress. By ensuring that education is accessible to all, regardless of financial constraints, the government is fostering a more inclusive and prosperous society. The implementation of the Students Loan Bill will require close collaboration between government institutions, financial organizations, and educational institutions to effectively disburse and manage the loans.
The news of President Tinubu signing the Students Loan Bill into law has been met with enthusiasm and hope from various segments of society. Students, parents, and education advocates see this as a significant milestone towards achieving educational equity and empowering the youth. The implementation of the law is eagerly anticipated, as it has the potential to positively impact the lives of countless aspiring students across the country.
With the Students Loan Bill now in effect, Nigeria is taking a progressive stride towards expanding access to education and nurturing the talents and potential of its youth. It is a testament to the government's commitment to investing in human capital and building a brighter future for all Nigerians.