Thousands of fans assembled at the Leopold Sedar Senghor airport to welcome the heroes of the day who gave Senegal its first continental trophy as Senegal's President Macky Sall declared Monday a public holiday to celebrate the national football team's first ever African Cup of Nations crown following their victory against Egypt, public television announced.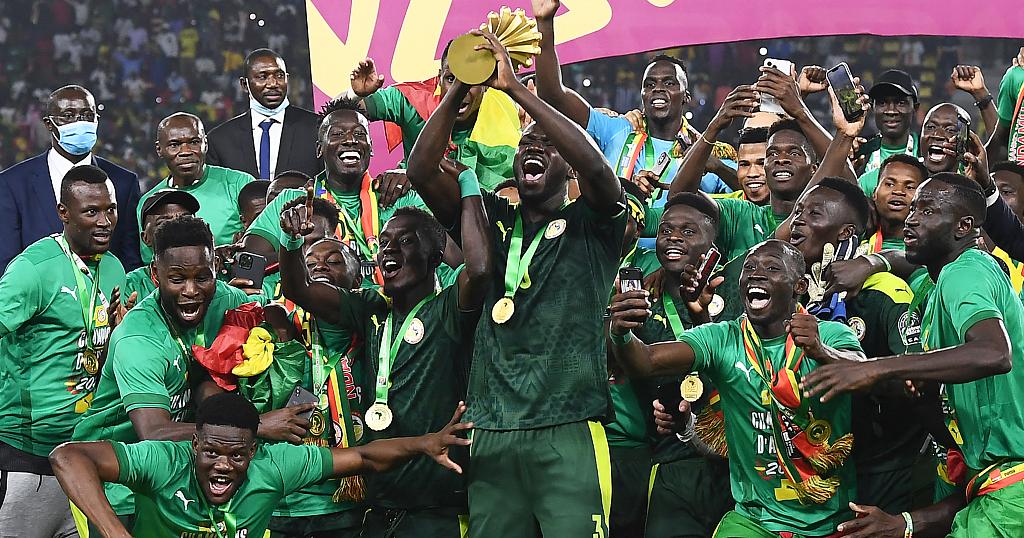 Sall, who had been due to visit Comoros at the end of a trip that took in Egypt and Ethiopia, cancelled the last leg in order to welcome the triumphant Lions on their return to Dakar at 1300 GMT Monday, RTS said.
Led by Liverpool star Sadio Mane, Senegal overcame Mohamed Salah's Egypt 4-2 in a penalty shoot-out at Sunday's final in Cameroon. The game had finished goalless after extra time.
After two previous final defeats in 2002 and 2019, Senegal finally claimed their first Cup of Nations title.
The Lions will be decorated by Sall on Tuesday at the presidential palace in Dakar, RTS television said.
"The president of the republic declared Monday a public holiday, a paid day off, following the brilliant victory of the Lions," RTS said, citing a presidential decree.
Fans reactions over Sengal's Victory
The celebrations are not yet over in Dakar. Thousands of fans are still overjoyed following the victory of the Lions of Teranga in the final of the African Cup of Nations. Their first continental trophy is being celebrated as it should be by these supporters.
"We are really happy. We've been waiting for this for years. Frankly, it is a lot of pleasure and emotion. We can't even express our feelings. Today is the day that we cannot even explain. All Senegalese are happy after long years of waiting," a fan said.
"We are going to see the Lions at the airport. We are really happy. They are the best, they are the best," said a fan.
"A lot of happiness. What we feel is unexplainable. We're very happy today," another fan said.
The party will continue until this Tuesday. The Lions will be received at the palace by President Macky Sall. They will be honored as the real Lions of Teranga. [V.O.A]