Rory McIlroy has said his "mental and emotional wellbeing" was a reason for him withdrawing from the RBC Heritage event last month.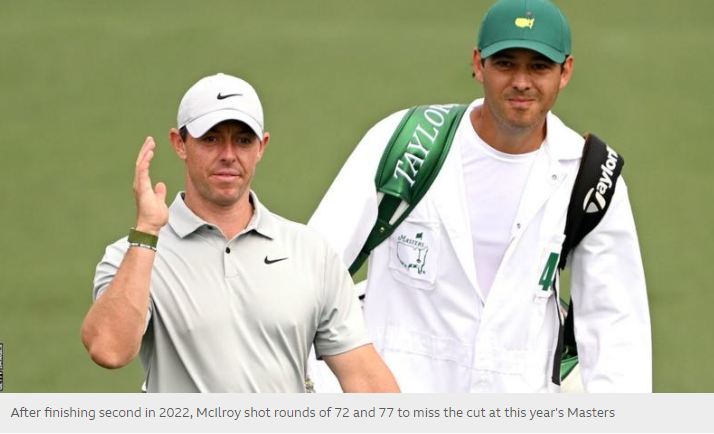 No reason was given at the time for the world number three's withdrawal, which came soon after he missed the cut at the Masters.
McIlroy will make his first return to competition since Augusta at this week's Wells Fargo Championship.
"I needed a break for me," the Northern Irishman told the Golf Channel.
"Obviously, after the disappointment of Augusta, and it's been a pretty taxing 12 months mentally, so it was nice to just try to disconnect a little bit and get away from it
"But it's nice to come back and feel refreshed and I think we're on a pretty busy run here from now until after the play-offs so I'm excited to get going.
"I think it was a combination of a few things, and just after the disappointment of Augusta and how I played there, it was just more for my mental and emotional wellbeing I just needed to be at home for those few weeks but, as I said, looking forward to getting back this week."
He added: "I think I'm in a better headspace than I was. Yes, you know, that run-up to Augusta is always a stressful enough couple of weeks trying to make sure everything is in the right order and making sure your game is in good shape.
"I think for me it was a nice reset because I still had to realise that there are three more majors this year, there is a ton left to play for."
McIlroy declined to do any post-round interviews after failing to make the halfway cut at the Masters, where he admitted he allowed himself to think about the prospect of becoming just the sixth player to win all four majors.
"Me thinking that way isn't a good thing," he said, speaking at a promotional event ahead of the Wells Fargo event.
"All I should be thinking about is that first shot on Thursday. You need to stay in the present moment and I feel like at Augusta I didn't quite do a good job of that because of how well I came in playing. I maybe got ahead of myself a little bit."
On his performance at Augusta, he added: "It sucked. It's not the performance I obviously thought I was going to put up.
"Nor was it the performance I wanted. Just incredibly disappointing. But I needed some time to regroup and focus on what's ahead."
The RBC Heritage was the second designated PGA Tour event that the 33-year-old has skipped this year, one more than players ranked in the top 20 of the circuit's Player Impact Program (PIP) are allowed to miss.
Having already sat out the season-opening Sentry Tournament of Champions in January, this second absence could potentially cost him bonus money from the PIP, which is distributed at the end of the PGA Tour season and which earned McIlroy £7.5m in 2022.
McIlroy will be aiming to win the Wells Fargo Championship for a fourth time when he competes at Quail Hollow this week, having won the title in 2010, 2015 and 2021.
Later this month, McIlroy will attempt to add to his tally of four majors at the US PGA Championship before competing at the US Open and Open Championship in June and July.
And he hopes he will now be able to focus on his golf having spent much of the last 12 months staunchly defending the PGA Tour in the face of the threat from the breakaway LIV Golf tour, a role he admits has weighed heavily on him.
"I wasn't gassed because of the golf, I was gassed because of everything that we've had to deal with in the golf world over the past 12 months and being right in the middle of it and being in that decision-making process," he said.
"I've always thought I've had a good handle on the perspective of things and where golf fits within my life, but I think over the last 12 months I'd lost sight of that, lost sight of the fact that there's more to life than the golf world and this silly little squabble that's going on between tours.
"And I think once I disconnected from it a little bit, I could see things a little clearer and where everything fits. I guess that was a good reset." Source: BBC