When Tanzania's president assumed office last year after her predecessor died suddenly of suspected COVID-19, it was seen as the beginning of a new era. Samia Suluhu Hassan, the East African state's first female president, immediately sought to distance herself from her old boss when she told parliament to "stop comparing me with [John] Magufuli".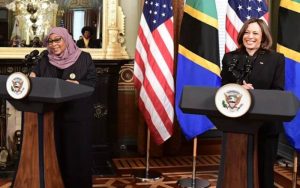 US Vice President Kamala Harris meets with Tanzanian President Samia Suluhu Hassan in Harris' ceremonial office on the White House campus, on April 15, [Patrick Semansky/AP Photo]
Hassan's trip to the US in April, her second in less than a year, was viewed by her supporters as proof that Tanzania is charting a new course. Her rapid diplomacy is being interpreted as an intent to woo foreign investors back to Tanzania after hostile domestic policies and rhetoric stymied foreign domestic investment for years.
Her trip to the US reportedly garnered $1bn in investment from various American companies, indicating that foreign investors see positive changes in Tanzania. It was reported that the US firms were interested in sectors ranging from tourism to energy.
During the same trip, she visited New York and Los Angeles to launch the premiere of a new state-backed documentary, Tanzania: The Royal Tour, which promotes tourism in the East African country. The film shows Hassan visiting Tanzania's popular tourist destinations such as Mount Kilimanjaro and Zanzibar in a bid to boost tourism after COVID.
"It's a 180-degree turn from what her predecessor was like," Fahad Awadh, co-founder of YYTZ AgroProcessing, a cashew nut company based in Zanzibar told Al Jazeera. "She is going out and building bridges with these other countries. She has travelled a lot in the last year going to the UK, France, Belgium, Dubai and Kenya and Uganda in the region."
The change in tide comes as a stark contrast to Magufuli who rarely left Tanzania and discouraged foreign travel by senior government officials. In fact, the former president only made 10 international trips during his six years in office – none was outside Eastern and Southern Africa.
Magufuli's tilt towards a more nationalist and isolationist agenda was reflected in the government's hostile approach towards donors and development partners.
In 2018, Magufuli said he prefers Chinese loans to Western aid as it comes with fewer conditions.