A row has broken out in the southern Indian state of Kerala after a government school allowed teenage female students to wear trousers.  .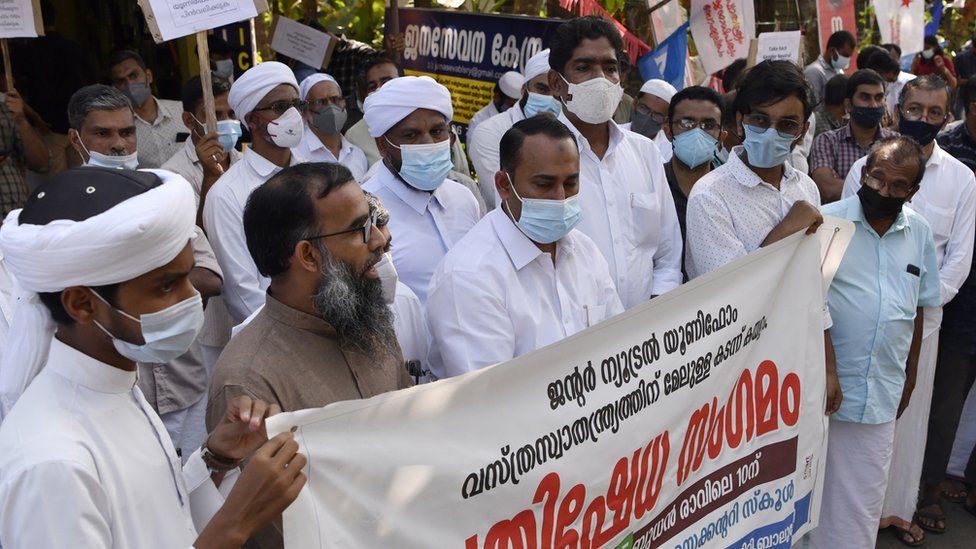 On Wednesday morning, when Sringi CK waited at the bus stop to catch a bus to school in her brand new uniform, a compliment from an unknown woman made her feel special.
"This lady told me that I looked very smart and I felt very proud," the 17-year-old, who studies in class 11 at the Government Girls Higher Secondary School in the town of Balussery, told the BBC.
But once Sringi reached school, she had to make her way through a throng of protesters – kept in check by dozens of policemen – who were unhappy that girls could now wear trousers and shirts, just like the boys.
Until the changeover, female students wore traditional long tunics, loose fitting trousers and waistcoats.
School principal Indu R told the BBC that last year girls, who are now in class 12, suggested they should be allowed to wear the same uniform as the boys.
She said she saw merit in their proposal since "most of our students wear jeans and tops outside like teenage girls anywhere else in the world" and the waistcoat was not suited for Kerala's humid weather.
"So we discussed it with the staff and then called a meeting of the Parent Teacher Association (PTA). The majority agreed so we decided to switch," Mrs Indu said.
"Only one or two parents expressed concern about the gender-neutral uniform and we told them that girls could wear longer shirts with full sleeves, they could wear a headscarf and even the waistcoat if they wanted.
"But very few girls have chosen them," she added. Mrs Indu sent the BBC photos of a group of students in their new uniform, taking selfies, doing fist bumps, laughing and literally jumping for joy.
Conservative Muslim groups are opposed to the new uniform for girls. Sringi, who's part of the group, says she loves her new uniform because it's "very comfortable" and allows her to be "very flexible".
"Ours is the first government higher secondary school that's gone for the unisex uniform. I feel like I'm part of a revolution," she adds.
The uniform change has the blessings of the Kerala government. "The dress code and the entire system of schooling should change with the times," Education Minister V Sivankutty told the BBC. "We hope more schools will join the initiative to create awareness among teenage students against gender discrimination early."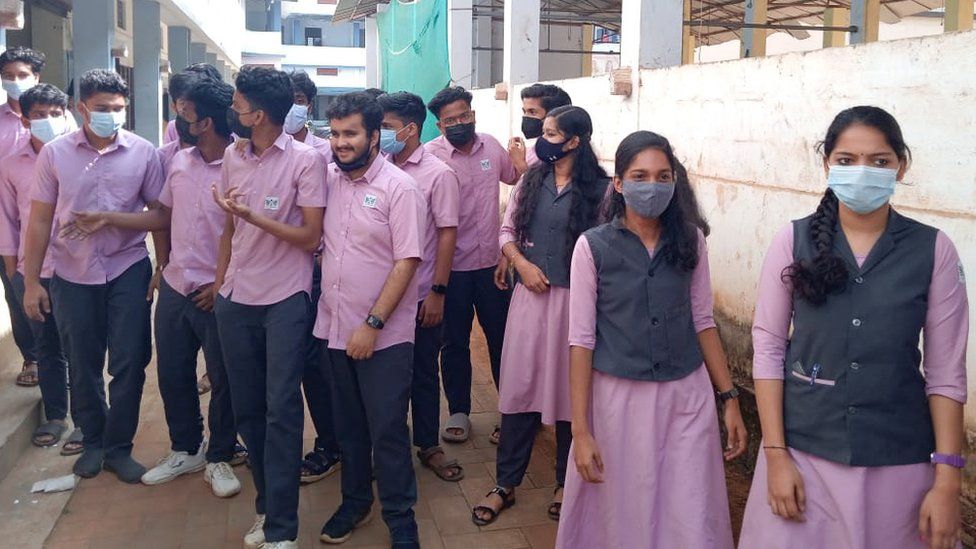 But the new uniform has not gone down well with conservative Muslim groups who say their children are being "forced" to wear the new outfits.
"The decision was taken without calling a general body meeting of the PTA and now our girls are being forced to wear trousers and shirts like boys. It's also a huge financial burden on poorer families," said Mujahid Balussery, a member of the Muslim Coordination Committee against unisex uniforms.
But a bigger concern for Mr Balussery is his belief that a uniform change is part of the state's Communist government "agenda to impose their atheistic ideology on children" which he says will lead them astray.
"We cannot compromise on our faith," he says. "Girls and boys must keep their distinctive identities. Allowing girls to dress up like boys is like initiating them into free sex. It will lead to sexual liberation by ending gender differentiation."
Similar comments by other Muslim religious groups in the past week have evoked sharp criticism from many in Kerala and the rest of India, with critics saying it is an attempt by orthodox groups to impose restrictions on girls.
Kerala is often described as India's most literate and progressive state. It's often cited as the only state in the country that has achieved 100% literacy.
Girls make up 48.96% of total student enrolments in schools and a majority go on to acquire university degrees.