The highly anticipated ICTEL Expo 2023, the 9th edition in its series, is set to take place on July 25 and 26 at the Landmark Event Center in Victoria Island, Lagos. The Expo tagged "Tech Disrupt: Transforming Industries with Innovation," aims to explore the forces of technological disruption that are reshaping industries and creating new economic opportunities.
In a Media Chat with News men on Tuesday at the Commerce House Lagos, Vice President and Chairman, Trade Promotion Board, Lagos Chamber of Commerce & Industry Engr. Leye Kupoluyi disclosed that the ICTEL Expo 2023 will be demo-driven, providing a platform to showcase technological forces that are reshaping industries and propelling innovation.
He also disclosed that over 1,500 visitors have already registered and confirmed their participation for the two-day event, with exhibition booths sold out. According to him,  the Expo is set to be a vibrant gathering of industry players, investors, sponsors, and technology enthusiasts.
"This year, the list of endorsements and partnerships has expanded to include Lagos State Employment Trust Fund, Exam Padi, Arnergy, and several other reputable brands. The support from both the public and private sectors demonstrates the collective commitment to fostering the growth and global competitiveness of Nigerian startups."
"The disruptive impact of technology has been further amplified by the COVID-19 pandemic. We have witnessed accelerated changes in various aspects of our lives, including increased online shopping, robotic delivery systems, digital and contactless payment systems, remote working, e-learning, telemedicine, 3D printing, and online entertainment. These disruptions, made possible by technological advancements, are here to stay, with even more transformative changes on the horizon."
"Ladies and gentlemen, in order to sustain innovation and catch up with the world, Nigerian startups must be given platform to practically demonstrate their new technological discoveries which will enable them to have desirable turnover, increase profit merging, gain market share, and enhance customer loyalty.  This will no doubt make them to be more globally competitive." Engr. Kupoluyi further said.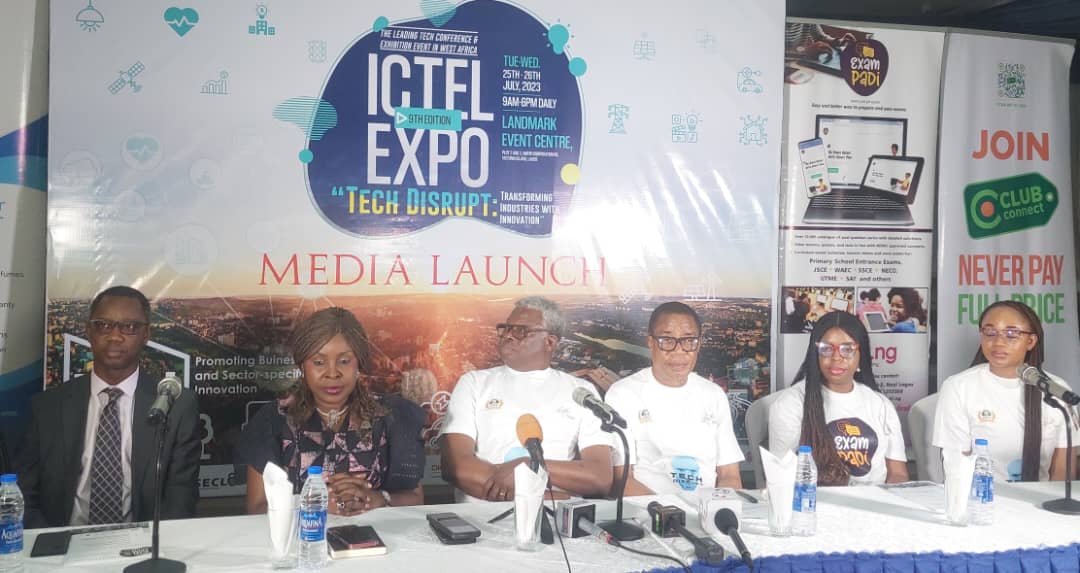 L-R: Omobola Omofaye, Chief Commercial Officer, Arnergy Solar, Tokunbo Taiwo, President Lagos Information Security Audit and Control Association (ISACA), Dr. Chinyere Almona, Director General Lagos Chamber of Commerce and Industry (LCCI), Engr. Leye Kupoluyi, Vice President & Chairman Trade Promotion, LCCI, Kunle Adebowale, Chairman Specialized Exhibition Committee, LCCI, Joy Bassey, a representative of Exam Padi and Susan Agbo (Co-opted team member for ICTEL 2023) during the media launch of ICTEL EXPO 2023 held in Victoria Island Lagos on Tuesday, July 4th, 2023.
In recent times, technological disruption, characterized by the replacement of traditional business models and the increasing role of technology, has become a global phenomenon. Today, the integration of robots and automation is beginning to replace human roles, challenging business owners to keep pace with rapidly evolving trends.
Dr. Chinyere Almona, Director General, Lagos Chamber of Commerce & Industry described ICTEL Expo as one coming in good time emphasizing the role of SMEs in the economy and the impact of technology in their businesses. According to her, ICTEL is expected to showcase technology that will help them do business better, be more efficient and be more effective at a lower cost. She also applauded efforts of the Government in ensuring that the economy is abreast with innovations in technology.
"Technology is that platform that moves trade, investment and commerce. If we can get it right with technology, if we can pay sufficient attention to technology, then we can get a lot of other things working well. There have been so many changes, we are watching how things are evolving, and we hope that things will settle down eventually and impact businesses positively. At the Lagos Chambers of Commerce and Industry, we are committed to ensuring that the Business ecosytem has a thriving environment for businesses. And that's what we want to do with ICTEL 2023."
Students from secondary schools and tertiary institutions are also expected to be at the event where they will get the opportunity to present their innovative ideas, fostering a culture of creativity and entrepreneurship among the younger generation as the event will be live-streamed on various social media platforms, ensuring wider participation and engagement.
Susan Agbo one of the team members for ICTEL 2023 while speaking with AV1 News explained that the event will encompass a diverse range of components, including a Start-Up Pitch Competition, exhibition of the latest IT hardware and gadgets, conference sessions, panel discussions, product launches, product displays, experience centers, and practical demonstrations of new technology trends.
" On the panel, we will have speakers in AgriTech, EduTech as well as FinTech speak to us as to how technology is being used in their industries nd how it is affecting all of us. ICTEL  has also been big on StartUps, and there will be opportunities for Pitches.  This year, about 50 Start-Ups are expected to make their pitches at the event."
The ICTEL Expo 2023 is expected to be an explosive Tech event, providing a platform for industry players to exhibit and promote their products and services while facilitating product exhibition, knowledge of regulatory requirements, and as well drive innovation across industries through collaboration and practical demonstration of new trends in technology.