Hilton was presented with the inaugural Sustainable Stand Award at the 30th edition of Arabian Travel Market (ATM), which will run at Dubai World Trade Centre (DWTC) until Thursday 4 May. The hospitality brand was praised by the exhibition's independent panel of judges for its decision to engage a local supplier in the creation of its stand, as well as its commitment to repurposing as many materials as possible over the coming three years.
To support its ecologically responsible approach to its stand design, Hilton is measuring its environmental footprint with a carbon calculator and has taken steps to mitigate the impact of its catering activities throughout the show, in line with the company's long-term sustainability goals.
The ATM judges also extended their condolences to the family, friends and colleagues of Jochem-Jan Sleiffer, Hilton's former President – Middle East, Africa and Türkiye, who passed away last week.
In addition to Hilton, the ATM 2023 Best Stand Awards judges commended a number of other exhibitors for their sustainable efforts. The panel praised The Royal Commission of AlUla for paying close attention to the sustainable materials used in its stand's design, and Switzerland Tourism for its 'sustainability wall' and the reusable modular system that it adopted.
In the Best Stand Design Award (over 150m2) category, Saudia was selected by the judges for the second year running. The Kingdom's flag carrier received praise for its impactful use of digital screens and reflective flooring, which the panel said created a genuine 'wow factor'.
The Best Stand Design Award (under 150m2) was presented to Barbados Tourism Marketing Inc, whose showcase was inspired by the home of global superstar, Rhianna. The ATM judges commented on the design's success in representing the feel of Barbados, as well as the innovative integration of digital screens. Cinnamon Hotels & Resorts was highly commended by the panel in this category for its layout and use of recycled materials.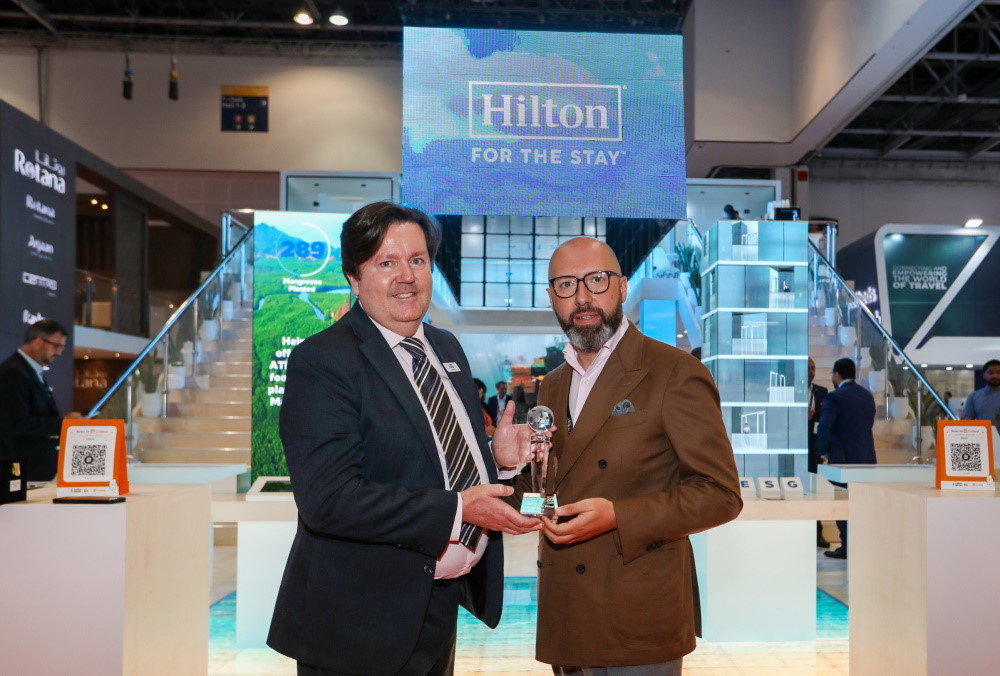 Dubai Department of Economy and Tourism (DET) was presented with the Best Stand for Doing Business Award, thanks to its impressive three-storey exhibition space. The stand's comfortable seating, spacious layout and high-quality hospitality combined to create an inviting environment for visitors, according to the panel. Sharjah Commerce & Tourism Development Authority was highly commended in this category for its use of space, success in reflecting the Emirate and eye-catching powerboat centrepiece.
The Best Stand at ATM Travel Tech Award was won by WebBeds, thanks to its welcoming, functional and eye-catching design, as well as its spacious upstairs meeting area. The judges also commended RateGain's stand, whose use of wood distinguished it from many of its other Travel Tech counterparts.
Visit Maldives secured the Best Stand Feature Award, with judges remarking on the impact of its digital floor area. The striking display depicted a marine environment replete with whale sharks and manta rays, conveying the Indian Ocean destination effectively and memorably.
The judges for the ATM 2023 Best Stand Awards included Helen Sheppard, Sustainability Director at RX; Christian Druart, Secretary of the Sustainable Development Working Group at The Global Association of the Exhibition Industry (UFI); Selina Donald, Chief Sustainability Advisor and Founder at The Bulb; Nadia Ibrahim, Director – Consultancy & Sustainability at Farnek; Kevin Agnew, Global Environment Manager at RELX; Sarah Duignan, Director – Client Relationships at STR; Philip Wooller, Senior Director Middle East & Africa at STR; Matt Gibson, CEO of UpThink; and Marissa Baranoff-Rossine, Editor of TTG Asia.
Danielle Curtis, Exhibition Director ME, Arabian Travel Market, said: "Our judges were immensely impressed with the quality of this year's stands, which demonstrated a range of innovative approaches to sustainability, functionality and hospitality. I would like to thank the panel members for their time and effort and congratulate all of this year's winners for their excellent exhibition spaces."
The 30th edition of ATM is taking place as part of Arabian Travel Week (1-10 May 2023), a festival of events dedicated to enabling industry professionals from all over the world to collaborate and capitalise on market opportunities through exhibitions, conferences, breakfast briefings, awards, product launches and networking events.
Those attending ATM 2023 in person can get involved in the conversation online by using the hashtag #ATMDubai when posting on social media channels.
ATM 2023 is being held in conjunction with Dubai World Trade Centre, and its strategic partners include Dubai's Department of Economy and Tourism (DET) as the Destination Partner, Emirates as the Official Airline Partner, IHG Hotels & Resorts as the Official Hotel Partner, and Al Rais Travel as the Official DMC Partner.