Ninety-three people have been confirmed killed in the Maui fire that razed the historic town of Lahaina, marking the most deadly US fire in a century. The death toll could rise "significantly", Hawaii Governor Josh Green warned on Saturday, as forensic work continues to identify the victims. Hundreds remain unaccounted for while hundreds of others fill shelters across Maui after fleeing the flames.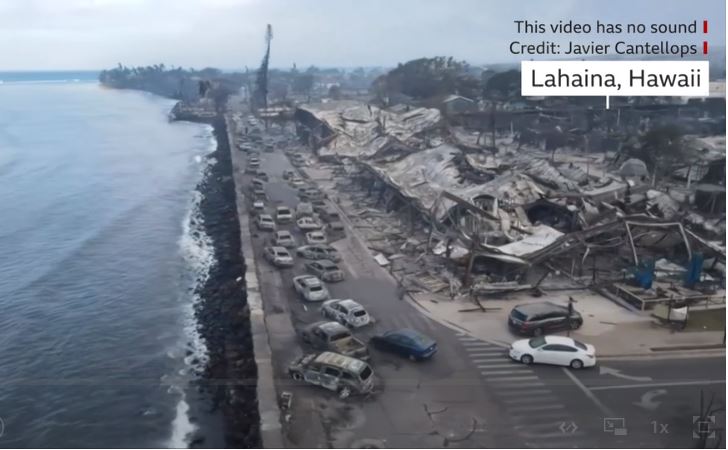 "It's an impossible day," Mr Green said.  The fire will "certainly be the worst natural disaster that Hawaii ever faced", he said.
"We can only wait and support those who are living. Our focus now is to reunite people when we can and get them housing and get them health care, and then turn to rebuilding."
While the wildfires are now largely under control, efforts to fully extinguish them are continuing in parts of the island, including around Lahaina, which has been devastated. Authorities have focused efforts on combing through what is left of the coastal area of the island, using sniffer dogs trained to detect bodies to look for signs of corpses under the rubble. So far, they have covered only 3% of the search area, said a visibly emotional Maui Police Chief John Pelletier. "None of us really understand the size of this yet," he said.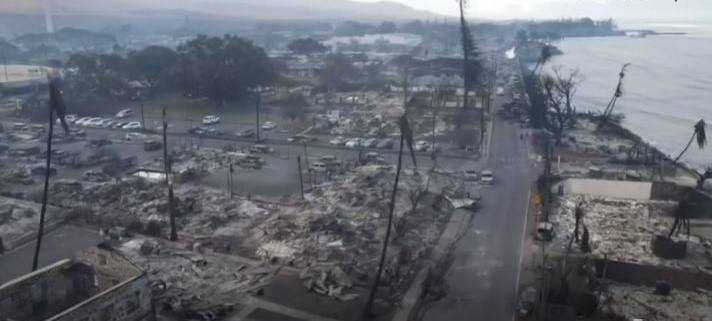 Jeremy Greenberg, a senior official at the Federal Emergency Management Agency (FEMA), has told the BBC that extra support being sent included urban search and rescue, and fire suppression teams.
"The absolute number one priority is survivor safety," he said.
Mr Greenberg added that while close to 1,000 people are still yet to be contacted, some of these may be safe but out of reach for a number of reasons.
In the emergency shelter at Maui's War Memorial Complex on Saturday, hundreds of evacuees continued to gather, receiving food, toiletries and medical aid from a still-growing number of volunteers.
Large whiteboards noted the most pressing needs – batteries, water, and generators – and an all-caps note that no more clothing was needed.
Keapo Bissen, a member of the War Memorial shelter team, said the list of the missing was fluctuating hour to hour as more people reported absent loved ones, and others were found.
"We've had a lot of great reunions happen in this parking lot," she said. "That's really been the bright side in all of this."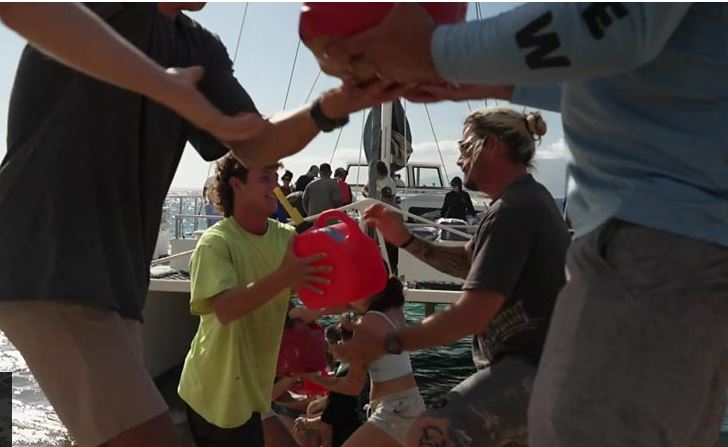 It is thought that more than 2,000 buildings have been damaged or destroyed since the fires broke out. The majority of these were homes in the Lahaina area.
The main road to Lahaina, the Honoapiilani highway, was briefly re-opened to residents on Saturday, before quickly being closed again.
Hundreds of Lahaina residents have stayed in line on the highway anyway, hoping to be be allowed through.
Liz Germansky, who lost her home in the fire, is angry about the response. "The government's getting in the way of people helping," she says, sitting in that same traffic queue.
Another route, the Kahekili Highway, is open, but locals say it's far too dangerous to attempt that drive. The road – known simply here as "the backroad" to Lahaina – is barely wide enough for one car, has many hair-pin turns, and a steep drop-off.
"We can't drive this truck there. It's a cliff," said resident Ruth Lee who was stuck in traffic trying to bring supplies to her family that stayed behind.
The cost of rebuilding Maui has been estimated at $5.5bn (£4.3bn), according to the Pacific Disaster Center (PDC) and FEMA, which is coordinating the relief effort to Hawaii from Washington.
Helicopter pilot Richard Olsten has flown over Maui and told the BBC that even most of the boats in the harbour were burnt and had sunk.
"The historic buildings, the church, the missionary building and so forth – all gone," he said.
"The main tourist area where all the shops and restaurants are, the historic front street – everything burnt to the ground."