Vice President of the Pentecostal Fellowship of Nigeria South-South Dr. Zilly Aggrey has called on Christians in the Country to look beyond protests as a way of reacting to the death of Deborah Samuel who was gruesomely murdered by a mob at the Shehu Shagari College of Education, Sokoto.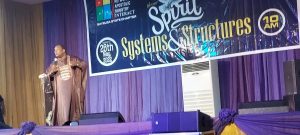 According to him, while protests is a natural tendency for people to react to such a heinous crime committed in broad daylight, Christians should see the prophetic implication of the killing of a woman with a name such as Deborah Samuel given te present dispensation of things.
He was speaking at the just concluded Ministers and Leadership Summit of the International Network of Apostolic Ministry Interact in Bayelsa State. The theme of the Summit 'Spirit Systems and Structures' drove conversations bordering on the understanding the systems of the world and the Strategic positioning of the Christian as a Leader with a voice that can be reckoned with in State matters.
Dr. Aggrey who is also the Senior Pastor Royal House of Grace International Church and founding President Interact International charged the Church in Nigeria to raise a cry out to God in prayer as the death of Deborah is one that will not go in vain.
According to him, the place of a woman in nation building cannot be overestimated, and as such, the killing of Deborah Samuel is one Christians must call to bare as intercessors when praying for the Country especially at this critical time when Nigerians prepare to choose for themselves Leaders who will lead the Nation.
He said Deborah's death should be seen as a challenge to embrace God's call as the world is waiting for praying women who will take their place in the Land urging Christians not to take for granted the need to work with wisdom and as well understanding the times and Seasons just like the men of Issachar in the Bible.
''At first, when I pondered over the killing of the young lady, it made me worry, and I went to God in prayer. The questions began to pour in, 'why now,', 'why a woman'. It was at that point that God brought my attention to a subject I never would have figured out on my own: The name 'Deborah', 'Samuel'. These are names of two influential people in the Bible. Both of them Judges and Prophets.''
According to him, Deborah was a righteous and courageous prophetess, who was made a judge over all Israel because of her faith, her wisdom, her fairness, and her obedience to God. She was also a woman of revelation and discernment.
''At that point, it all became clearer. God is raising women who will be used by Him, women He can trust with His Power and Grace, women who will shape the history of the Church in not just Nigeria but the World all over. Up until this moment, America is still looking for a woman that can carry Katherine Kuhlman's anointing. Which woman in this place will cry out to God and say 'O Lord let me be the Kathryn Kuhlman of Africa''
According to him, women occupy a very special place in the heart of God, they are created with such unique gifts and abilities that when put to use can turn the world around for good. He called on Christian women to rise and take their place in the plan of God for Nigeria by yielding to His purposes and plans in the place of prayer.
It may interest the reader to know also that Deborah Samuel's Father's name is Emmanuel Garba but his daughter the deceased chose to go by the name Deborah Samuel as she grew up with her brother whose name is Samuel.
Recall Deborah Samuel was stoned to death and set ablaze on Thursday May 12th by her fellow students at the Shehu Shagari College of Education, Sokoto for allegedly making a blasphemous statement on a WhatsApp group against Prophet Mohammed.
Her remains were laid to rest in her hometown, Tungan Magajiya in Rijau Local Government Area of Niger State Saturday evening May 14th 2022.