Experts at the just concluded 'SheCan' conference 3.0 have urged the Nigerian Government on the need to create more policies that give women priority considerations as the well being of a woman impacts on not just that of the family but on the Nation as whole.
Ezinne Ezeani, Convener 'SheCan'
Convener of the 'SheCan' Conference Ezinne Ezeani  while speaking at the third edition of the Conference which held at the Muson centre Lagos described the place of the woman in the society as one which cannot be over emphasized. According to her, while platforms such as 'SheCan' provide life changing and networking opportunities for Nigerian women and girls, Government must ensure existing policies concerning women are reviewed constantly especially in view of the long term impact of the pandemic.
The theme of the event "She Can Do More'  saw participants discuss extensively on way forward for women development with long term views. "there is more when you refuse to give up", Ezeani added.
Lagos State Commissioner for Women Affairs and Poverty Alleviation,Honorable Cecilia Bolaji Dada, who was guest speaker at the event while speaking urged women to participate in all areas of interest,whether in politics, sports or agriculture and get what they want and never to relent in their efforts.
"There are Agriculture projects for women, which includes training and providing farmlands for farming by the state, besides the existing vocational schemes available to support women and youths in the state." She said.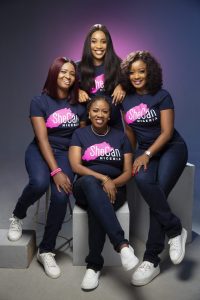 Meanwhile, Reverend Funke- Felix Adejumo who was also present at the event, encouraged the women to look inwardly at their innate gifts and talents, urging them to create as many streams of income as possible.
"what you are gifted by God is far superior to what you are trained for,"
Dr Maymunah Kadiri, Chief Executive officer Pinnacle Medical Services also charged the participants to be intentional and deliberate about their lives",She advised  that they "avoid stressors and traumatic environments, and be concerned about your mental health "
According to her, " Working in mental health clinic over the years, she observed that women have higher mental health risks than men because they care for all the members of families and neglect themselves in the process.
Kadiri also urged people to live peacefully, eat right, exercise, interact with happy persons, fumigate negative persons and vibes, ensuring they stay with positive people in their circle of friends and network too.
Meanwhile, WEMA Bank Mrs Abimbola Agbejule, spoke on financial literacy, highlighting the Bank's  different program that support women, children and families . She also encouraged them to work in groups such as corporative groups to enable them access loans or grants from donors.
"We encourage women and give loans to Start-Up businesses, and train others on ways to boost their Small and Medium scale enterprises urging them to embrace the saving culture" .
Other top female speakers who spoke at the event include the first female Managing Director [Exploration and production] Shell Nigeria, Elohor Aiboni , Folake Soetan, Chief Executive Officer Ikeja Electric Plc,, and Sandra Ezekwesili, popular Nigerian Info FM On Air Personality and Head of Strategic Partnerships.
Award winning photographer and special guest, Mr Kelechi Amadi-obi urged women to look inward as well as use their talents and skills to improve themselves, their families and the Society.
"The only thing that can stop you is You,"
In his zoom interview, Life coach and Catalyst Lanre Olusola, said the society and media should not define who a woman is, adding that women should know themselves, innate potentials and worth,  taking  the participants through a self discovery and self awareness journey.
"Any society that does not appreciate women never grows but remains retarded."
Standley Ezeani, MBR Signature and Co founder Shecan charged men to create avenue for women to realize their innate talents and gifts , recognizing their natural abilities as well as as  identify, acknowledge and celebrate their strength and achievements as they network with others.
He appreciated the Lagos state government, organisations such as Shell Nigeria WEMA Bank, VENTO funiture and stakeholders for supporting the foundation from inception till date with several empowerment women and youth programme.