Convener of the All Africa Medical and Wellness Expo 2023, Usman Isah, has described Medical Tourism as an aspect of the economy that can help drive Healthcare development in Nigeria. According to him, if the Private Sector can see the Medical Sector as one with opportunities for investment this would go a long way in enhancing development in Healthcare as well as domestic Tourism in Nigeria. He made the call during a Media Chat with Journalists in the Health and Tourism Sector via Zoom over the Weekend.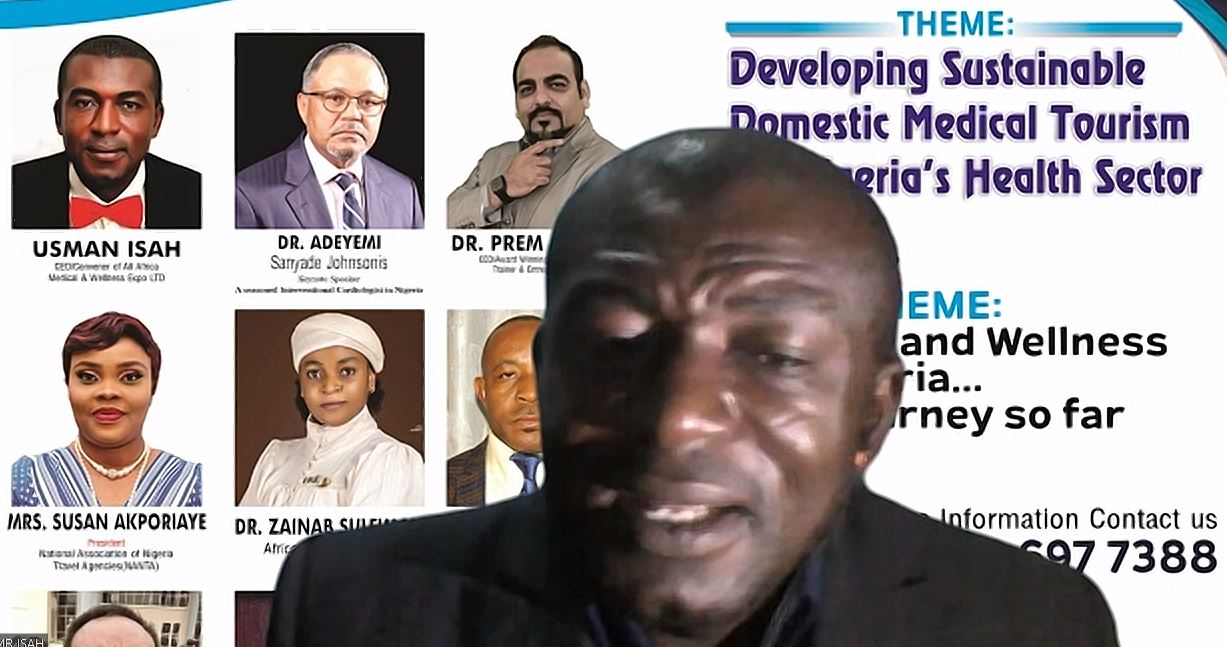 Isah called on the government to create the enabling environment for Businesses in the Health Sector to thrive. According to him, a thriving business Health Sector will go a long way fostering healthy completion in the sector and in turn enhancing the growth and development of Medical Tourism in the country.
''Nigeria is doing a lot wrong in the drive to get Medical Tourism right. A strong policy on Domestic Tourism and incentive for quality patient management will go a long way for the sector.''
While addressing Newsmen on the theme of the event "Developing Sustainable Domestic Medical Tourism for Nigeria's Health Sector." He disclosed that this theme transcends mere words.  He also urged Stakeholders in the country's Health and Medical sectors to take advantage of the immense opportunities that comes with the All Africa Medical and Wellness Expo 2023 set to drive growth and development within both sectors.
According to Isah, the All Africa Medical and Wellness Expo 2023, scheduled to hold on October 4th and 5th, 2023 at the Nicon Luxury Hotel Abuja, is poised to make a lasting impact on the trajectory of healthcare and wellness in Nigeria and the broader African region. He was speaking at a Media Chat with journalists in a Zoom meeting over the weekend in Abuuja.
'It is a comprehensive roadmap toward the development of domestic Medical Tourism in Nigeria, catalyzing the growth and excellence of the Healthcare Sector.
He paints a vivid picture of Nigeria as a hub for Medical Tourists, where world-class facilities in cities such as Lagos, Abuja, Port Harcourt, and across the nation beckon visitors seeking top-notch Healthcare.
''This vision extends to a Healthcare system that shines as a beacon of excellence and a society where wellness is deeply ingrained.''
Mr. Isah emphasized Nigeria's abundant blessings, particularly its wealth of highly skilled medical professionals. He emphasized that these professionals are invaluable assets to the nation, and their talents should not be at risk of the "Japa" syndrome—an exodus of talent seeking opportunities abroad.
''A thriving healthcare sector that draws not only local citizens but also international tourists can serve as a stronghold for retaining our medical experts as it offers visitors the opportunity to experience our medical expertise while exploring the diverse attractions found in the regions where these exceptional healthcare facilities are located, '' he said.
The Expo is set to host a remarkable lineup of speakers, including luminaries such as Dr. Adeyemi Johnson, renowned Nigerian Cardiologist and Keynote Speaker, Dr. Zainab Suleiman, Mrs. Susan Akporiaye and a host of others within and outside Nigeria. These Experts according to him will illuminate the path toward innovative solutions and transformative practices through with their wealth of knowledge and experience,
An Awards Gala for Excellence
In addition to the enlightening discussions and collaborations, the Expo will feature a special Awards for Excellence night. This event will celebrate the outstanding individuals who have left an indelible mark in both the healthcare and tourism sectors, serving as inspirations to all.
The All Africa Medical and Wellness Expo 2023 promises to be a landmark event, where stakeholders, experts, and visionaries come together to shape the future of healthcare, medical tourism, and wellness in Nigeria and beyond.
About the All Africa Medical and Wellness Expo
The All Africa Medical and Wellness Expo is a premier event dedicated to advancing healthcare and wellness in Nigeria and across the African continent. It provides a platform for healthcare professionals, policymakers, and industry leaders to collaborate, share knowledge, and explore innovative solutions to healthcare challenges. This year's will hold at the Nicon Luxury Hotel on 4th and 5th October 2023. To  register for the event please visit https://.www.amwe.com.ng
About the Convener
Usman Isah, is an outstanding Travel Consultant and Medical Tourism specialist based in Abuja, Nigeria. He is the CEO of Emblem Travels and Tours LTD and Africa Health and Fitness Magazine. He is also the current director of Turkish Healthcare Travel Council, Abuja network Office.His quest to achieve the best in his chosen career has earned him a worldwide recognition as a competent, seasoned and the most reliable Healthcare facilitator in Africa. Today, he is an associate of the world's most outstanding Hospitals and high-profile medical doctors. He is also a member of Healthcare Associations such as Global Healthcare Travel Council, Turkish Healthcare Travel Council, Ukrainian Association of Medical Tourism, Tunisia Health Tourism Association and a host of others. As an expert in the field, he has featured regularly as a speaker in Healthcare forums globally.  In 2017, he was the only Medical Tourism Facilitator chosen from Abuja as a foreign delegate for Advantage Healthcare Conference in Bangalore, India.