Rights groups have raised concerns about the alleged mistreatment and deaths of Kenyan domestic workers in Gulf states, particularly Saudi Arabia, prompting calls for the Kenyan government to take immediate action to protect its citizens abroad. Advocacy organizations, including Kituo cha Sheria and Hakijamii, are supporting litigation against the Kenyan government filed by former domestic workers who claim that the government has neglected to address the issue adequately.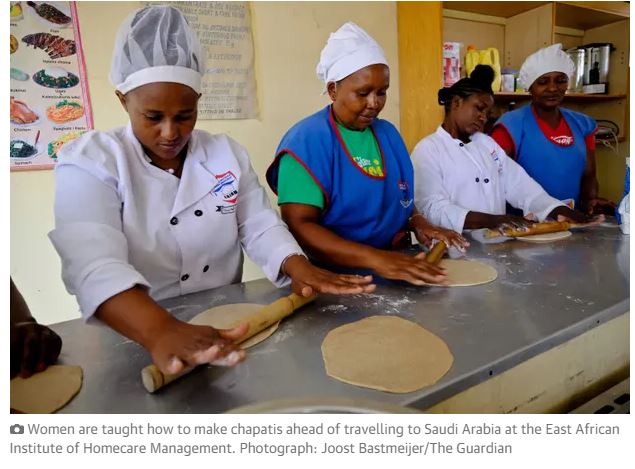 According to the Kenyan foreign ministry, at least 89 Kenyans, mostly domestic workers, lost their lives in Saudi Arabia between 2020 and 2021. Although recent data on Kenyan migrant worker deaths is not publicly available, the reported figures have sparked grave concern among rights groups. The workers involved in the lawsuit accuse the Kenyan government of failing to take proper measures to protect them from "modern-day slavery and human trafficking."
The lawsuit, filed in early February, demands that the government investigate cases of abuse and deaths, which it allegedly neglected in the past. The Kenyan government is expected to respond to the lawsuit within the next couple of months. The allegations and ongoing legal action highlight the urgent need for improved protections for Kenyan workers in foreign countries.
While Saudi Arabia is a significant source of remittances for Kenya, with migrant workers reportedly sending approximately £237 million to their families in Kenya last year, rights groups emphasize that economic benefits should not come at the expense of human rights and safety.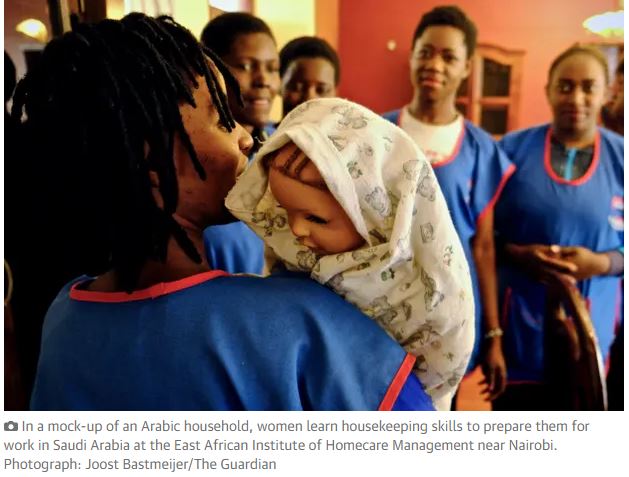 President William Ruto's plans to sign bilateral agreements with various countries, including Saudi Arabia, have alarmed rights groups who fear that the mistreatment of Kenyan workers in the Gulf region has not been adequately addressed. The organizations involved in the lawsuit are calling for an immediate suspension of all labor migration to the Middle East until basic minimum protections are guaranteed. They are also demanding damages for the victims or their families.
Testimonies from former domestic workers reveal disturbing experiences of abuse and exploitation. Purity Mbogo, one of the workers behind the case, recounted her ordeal, including having her phone and passport confiscated upon arrival, physical violence, and being forced into a different role than initially promised. Other women involved in the case claim to have faced physical and sexual abuse, with one woman stating that she had a child as a result of rape by her Saudi Arabian employer. The workers accuse the Kenyan embassy in Saudi Arabia of turning a blind eye to their plight, leaving them stranded and detained in deportation centers and agency accommodation facilities.
In response to the growing concerns, Kenya's Ministry of Labour and Social Protection recently conducted an inquiry into hundreds of recruitment agencies and barred 26 rogue agencies from sending workers abroad. However, rights groups argue that more significant steps should be taken to protect workers from the kafala system, which grants employers excessive control over workers' immigration and employment status.
Kenya's Ministry of Foreign & Diaspora Affairs has highlighted the existence of "holding centers" in Riyadh, which provide accommodation and assistance to distressed female domestic workers. These centers claim to offer legal aid, food, psychological care, and assistance with visas and repatriation. However, some centers have also faced accusations of mistreatment and detaining workers in squalid conditions for extended periods.
Rights groups are urging the Kenyan government to prioritize the protection of its citizens working abroad and to address the systemic issues contributing to their mistreatment. The government's response to the ongoing lawsuit and its commitment to improving worker protections will likely be seen as a crucial indicator of President William Ruto's administration's success in providing better opportunities for lower-income Kenyans and upholding