In a significant operation by the Nigeria Customs Service (NCS),  a container filled with arms and ammunition imported into the country from the United States of America (USA) has been successfully intercepted. The container was bound for the South Eastern part of Nigeria.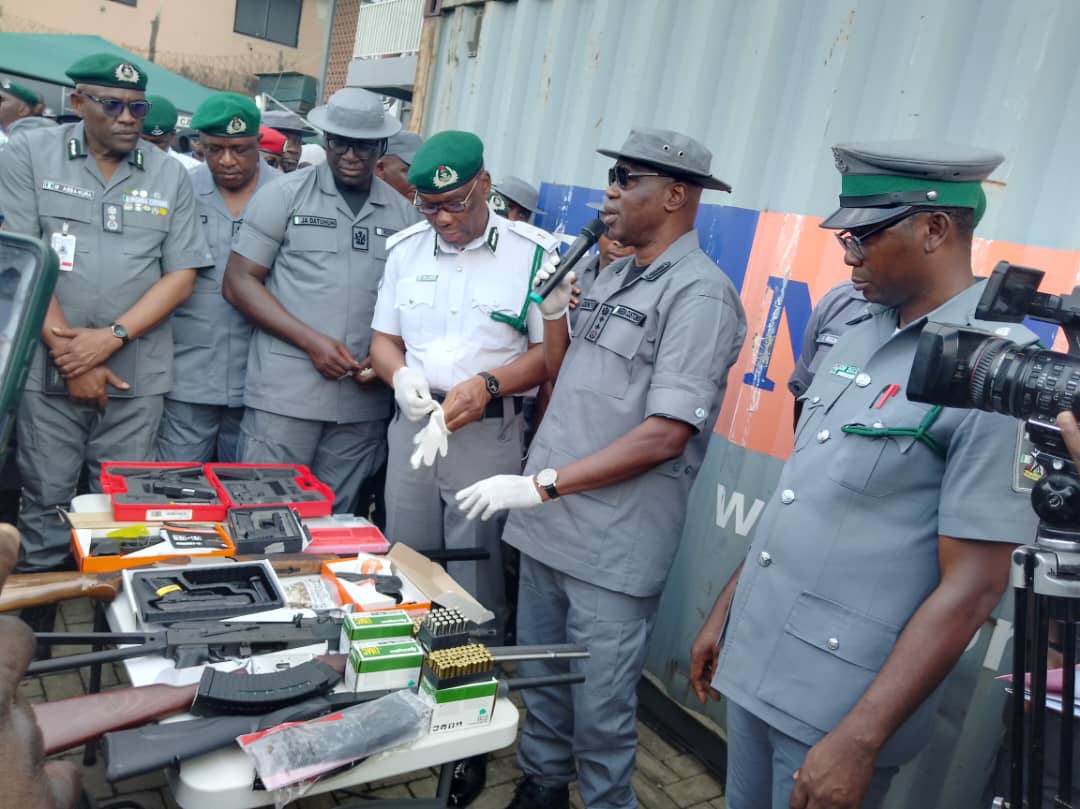 The acting Comptroller General of Customs, Adewale Adeniyi, made this announcement during a press briefing held in Lagos on Monday.
The interception took place at the Ports & Terminal Multi-Services Ltd (PTML) and Tin-Can Island Ports in Lagos. The discovery was made during a joint inspection exercise involving the Nigeria Customs Service, Nigeria Police Force (NPF), the Department of State Security (DSS), and the National Drug Law Enforcement and Administration (NDLEA).
During the examination of a 40ft container on July 5, 2023, a team of officers from various agencies discovered the concealed arms and ammunition. The illicit items were found inside plastic drums. The inventory of the seized items includes 3 new Pump Action rifles, one new unit of an armed rifle, six new different makes of pistols, and various other firearms. Additionally, 14 empty magazines and 442 rounds of live ammunition were also discovered.
The Customs Comptroller General noted that two clearing agents, Shokunbi Olanrewaju of Shooler Global International Ltd, and Mr. Joseph Nwadiodor, who was supposed to take delivery of the container, have been apprehended as suspects in connection with the seizure.
In a separate incident, the Tin-Can Island Port Command, acting on credible intelligence, subjected another 40ft container to a comprehensive physical examination in the presence of relevant security agencies. This examination revealed 18 more arms, packets of cartridges, and rounds of live ammunition concealed in plastic drums. The seized items include pistols, rifles, ammunition, and various other firearm-related materials.
Furthermore, during a routine patrol in Ogun State, officers from the Joint Border Patrol Team Sector 2 intercepted an unregistered Toyota Camry loaded with six sacks of charcoal. Upon inspection, they discovered three pump-action rifles along with 174 live cartridges, which were cleverly concealed inside the vehicle. The driver of the vehicle managed to escape arrest by fleeing into the nearby bush.
The total number of intercepted rifles in the first two weeks of July 2023 amounts to 31, a concerning revelation. Investigations into these seizures are currently ongoing, and the results, along with the seized items, will be handed over to the appropriate authorities for further investigation and prosecution.
The Nigeria Customs Service, in collaboration with other security agencies, remains committed to ensuring the safety and security of the nation. Such interceptions are crucial in preventing illegal arms and ammunition from reaching unauthorized hands, contributing to the overall peace and stability of the country.