The Access ART X Prize, an annual award for emerging artists in Nigeria, Africa and the Diaspora, and the leading art prize in Nigeria was recently awarded to two winners – one from Nigeria and one from Africa/ the Diaspora – as part of the 2022/23 edition, at a Press Conference held in Lagos on Friday 25th November 2022.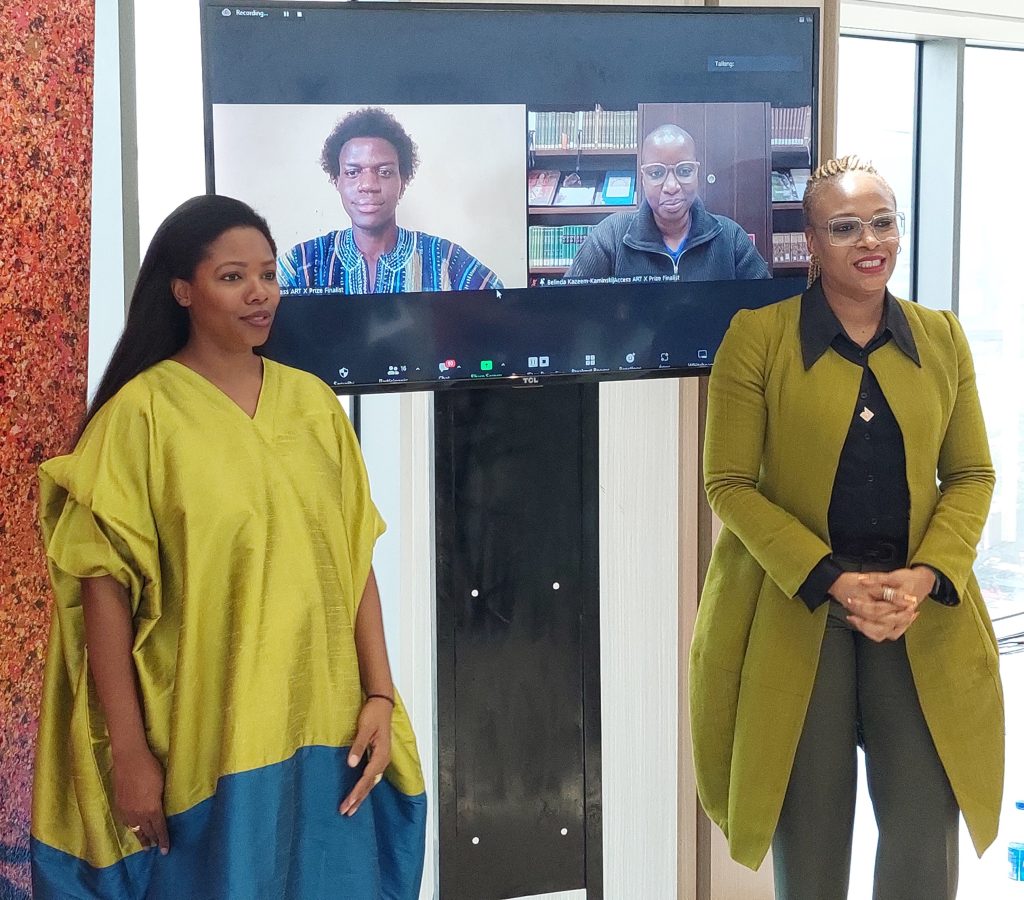 The Access ART X Prize was created by ART X, the organizers of the ART X Lagos art fair, and is sponsored by Access Corporation, the parent company of Access Bank Plc.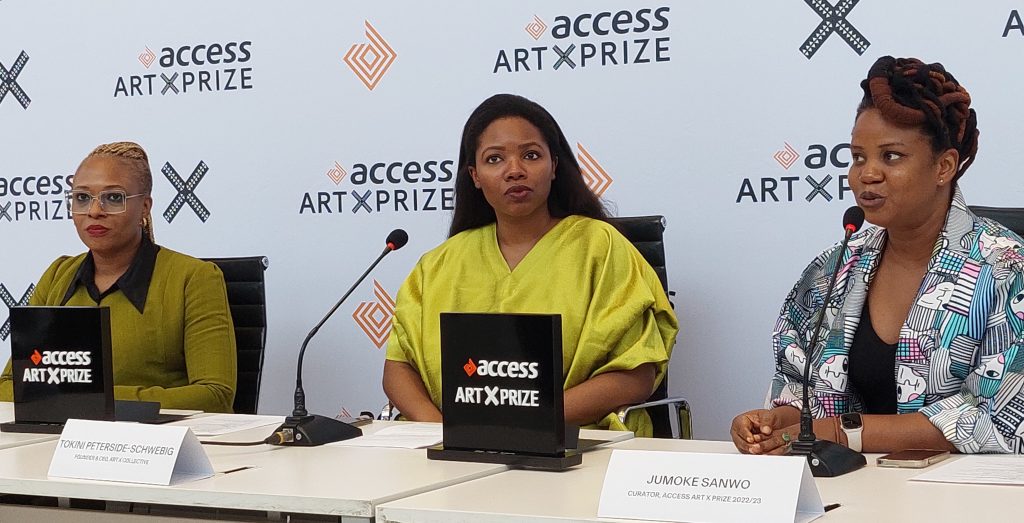 Formerly open only to Nigerian artists, the Access ART X Prize evolved in 2022 to include an additional award for emerging artists from the rest of Africa and its Diaspora, to strengthen its commitment to bolster the careers of a broader range of artists of African descent.


The prize-winnings for each artist in the 2022/23 edition include:
$10,000 grant towards an exhibition at ART X Lagos 2023
3-month residency at Gasworks, London (for the Nigeria winner) and Yinka Shonibare's GAS Foundation, Lagos (for the Africa/Diaspora winner)
Mentoring, support and cultural exchange opportunities
The Prize, which closed entries for its 2022/23 edition on 6th November 2022, received thousands of applications from early-career artists resident in Nigeria as well as over 50 other countries around the world.

The winners, who were announced at the 25th November event, were Dafe Oboro (Nigeria Winner) and Belinda Kazeem-Kaminski (Africa/ Diaspora Winner).
Dafe Oboro (the Nigeria Winner) is a 28-year-old artist who works predominantly in photography and film. Drawing motifs from fashion and popular culture, Dafe uses evocative sound and imagery to contemplate questions of masculinity, movement across time and space, and the socio-political state of contemporary Nigeria, and greater Africa.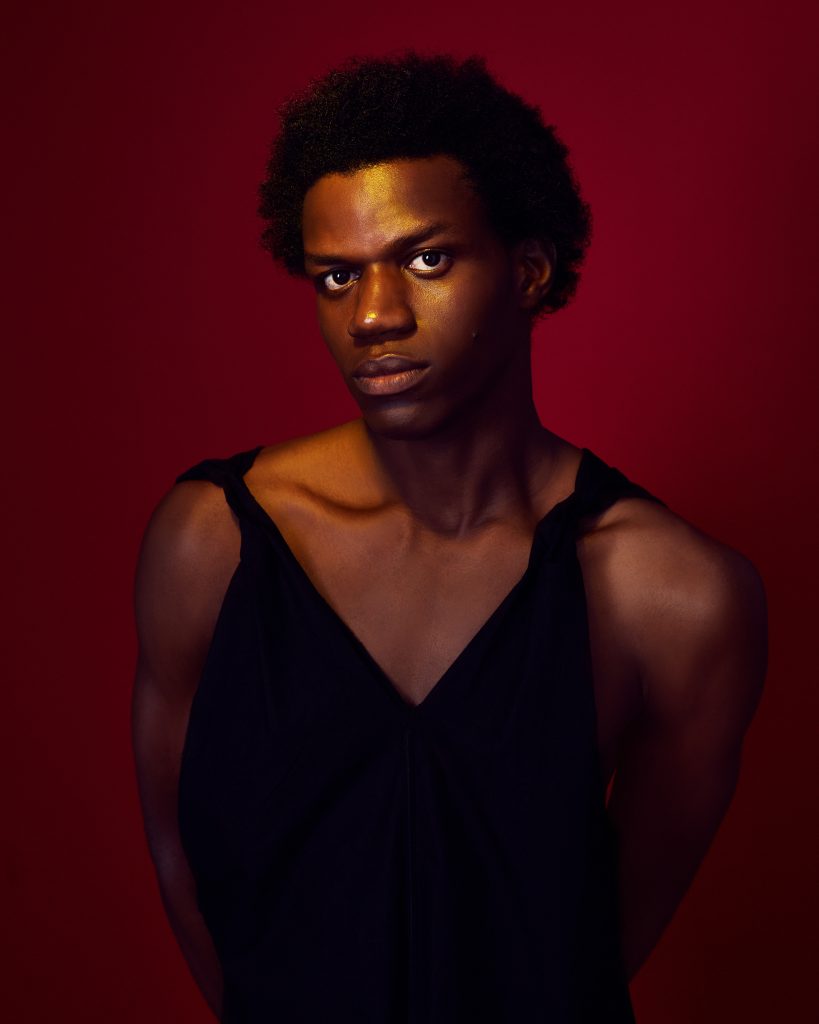 He aims to destabilize the often reductive understandings of Africa in mainstream popular media and open up room for a more nuanced engagement with the realities of the artist's cultural context.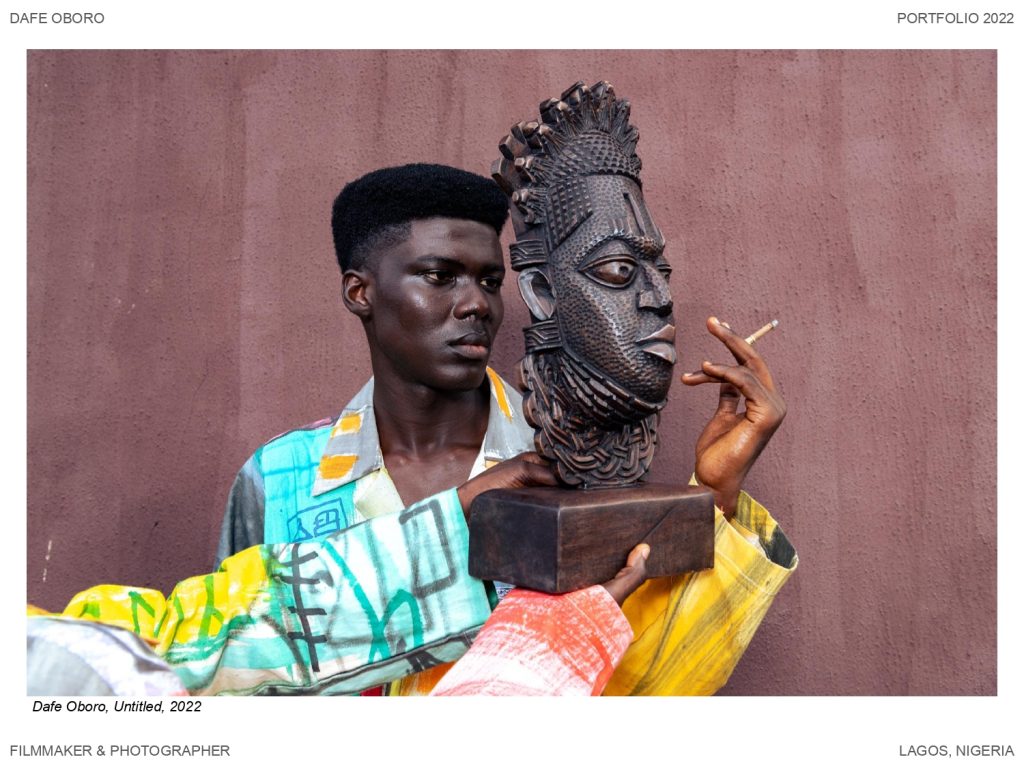 Dafe was the 2020 recipient of the film prize at The Future Awards Africa, and a 2020 nominee for Dazed Magazine's Dazed100 list of people shaping youth culture.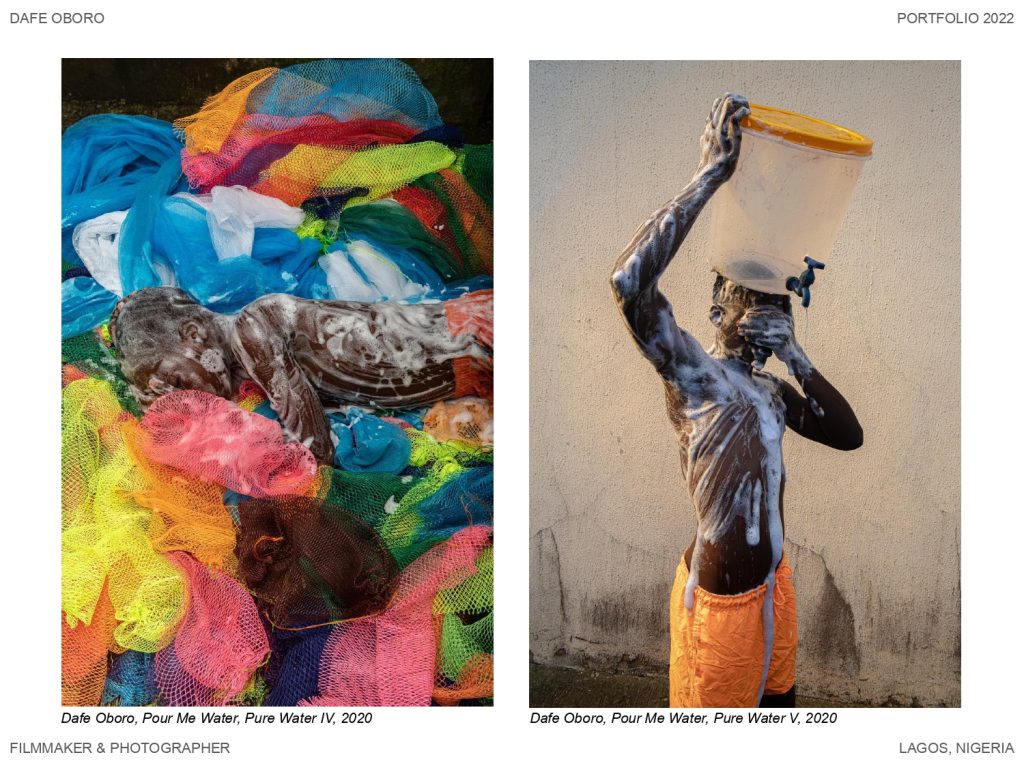 Dafe's film work has been screened at various venues and festivals in London (V&A Museum – Friday Late & London Short Film Festival, 2021), Lagos (ART X Live! 2019), Milan (Fashion Film Festival Milano, 2019), Eindhoven (Dutch Design Week, 2019) and Edinburgh (Africa in Motion, 2019).
Belinda Kazeem-Kamiński (the Africa/ Diaspora Winner) is a Vienna-based writer, artist, and researcher, whose works manifest themselves through a variety of media.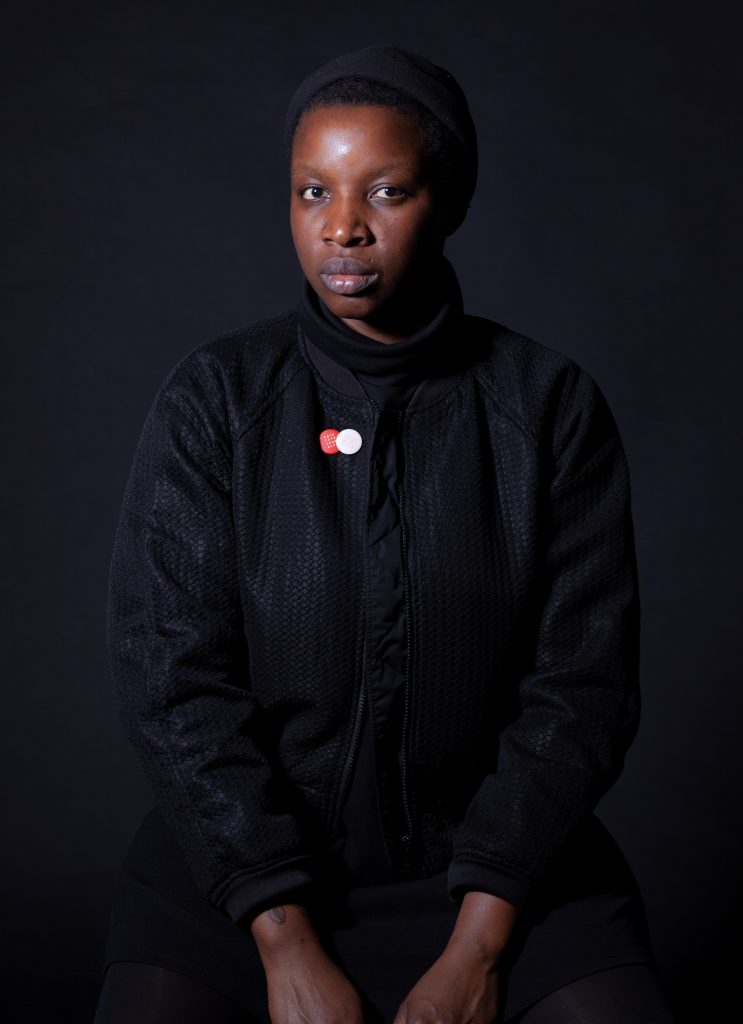 Rooted in Black feminist theory, she has developed a research-based and process-oriented investigative practice that deals with the condition of Black life in the African diaspora. Belinda has exhibited at various solo and group exhibitions globally and has won several notable international prizes.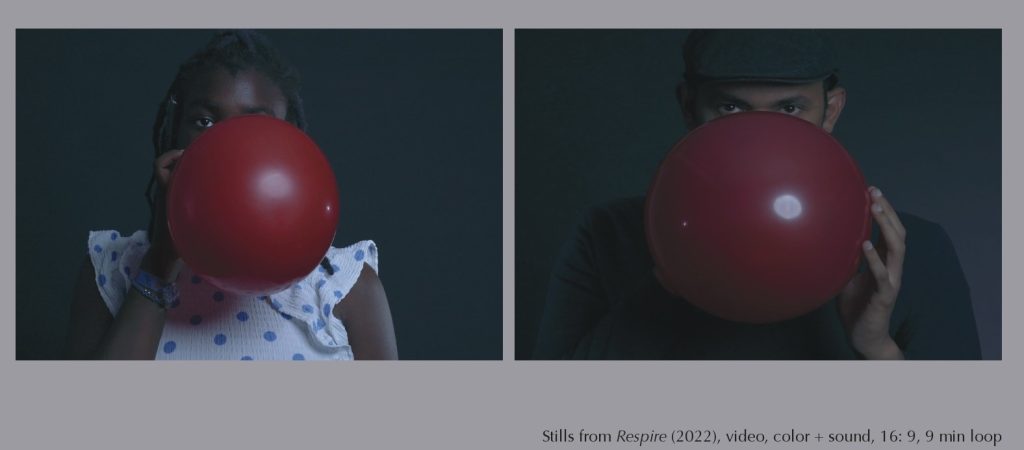 She interlaces with varying spaces and temporalities, thereby resisting a clean-cut separation between documentary and speculation.
Her solo and group exhibitions include: Seven Scenes, Camera Austria Graz (3.9.-20.11.2022), If A Tree Falls In A Forest (2022) Les Recontres d'Arles, Emplotment (2022), Museum Ludwig Budapest, KAS (2022) Centrale Fies, Solo-Exhibition Kunsthalle Wien (2021), The World Is White No Longer. Ansichten einer dezentrierten Welt (2021) Museum der Moderne Salzburg.
Her screenings include The International Film Festival Rotterdam, Diagonale, Vancouver International Film Festival e.g. Her awards and prizes include: Camera Austria Award (2021), Doc-Grant Austrian Academy of Science (2018-2020), Cathrin Pichler Prize (2018).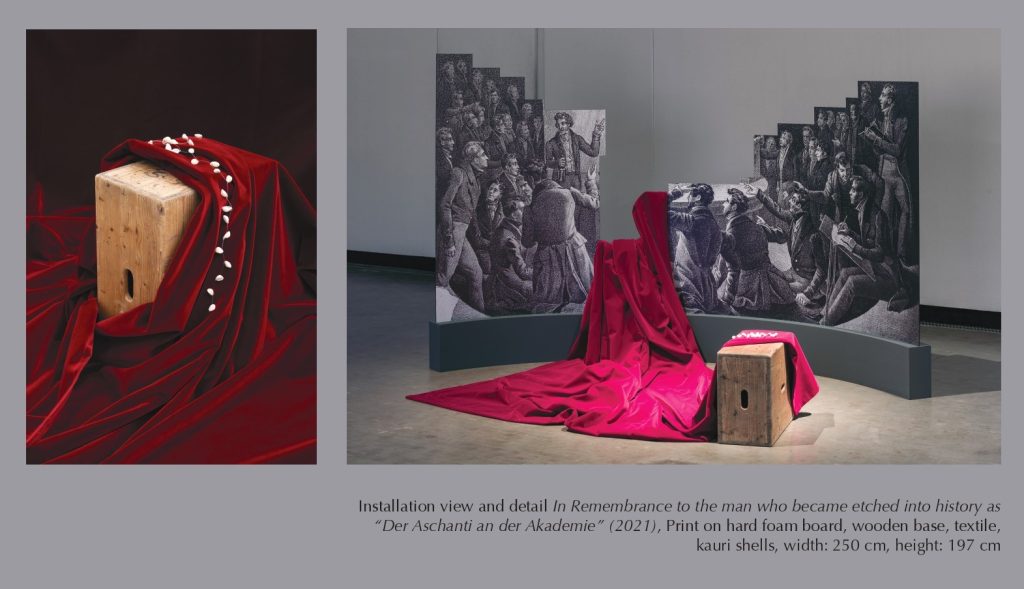 Both artists were selected by an international jury which included Professor Peju Layiwola, artist, art historian and writer; Victor Ehikhamenor, multimedia artist, writer and Founder of Angels and Muse; Dr Bonaventure Soh Bejeng Ndikung, Founder and Artistic Director of SAVVY Contemporary, Berlin and Sonsbeek 20–24; Maria Varnava, Founder and Director of Tiwani Contemporary; Gabi Ngcobo, artist, educator and Curatorial Director of the Javett Art Center at the University of Pretoria (Javett-UP); and Alessio Antoniolli, Director of Gasworks & Triangle Network, London.
Honourable mention was made to the four other finalists for the Nigeria Award: Tolulope Ami-Williams, Kingsley Ayogu, neec nonso and Matthew Eguavoen; as well as the four other finalists for the Africa/ Diaspora Award: Lois Arde-Acquah (Ghana); Louisa Marajo (France/Martinique); Mallory Lowe Mpoka (Canada); and Yetunde Olagbaju (United States).
Tokini Peterside-Schwebig, Founder and CEO of ART X said:
"We are delighted to present this prized opportunity to these two exceptional artists – Dafe and Belinda – who are unique in their perspectives but are united in their ambition to shift narratives about Africa and its global Diaspora. Our shared objective with Access Corporation, through this Prize, is to reinforce emerging artists at this pivotal stage in their careers, and we aspire over time to build a core group of artists for Nigeria, Africa and the Diaspora, with the potential to become truly transformational, not just within the arts ecosystem, but within our broader communities at a social, national, continental and global level. We look forward to working closely with these artists on their development in the coming months, and anticipate that they will make the most of this opportunity, which culminates in their exhibitions at ART X Lagos 2023."
The Access ART X Prize awards early-career artists from Africa and its Diaspora with opportunities to develop their practices, with the intention of setting them up for the highest levels of success on the global stage.
In its initial iteration, the Prize was created to bolster the careers of emerging Nigerian artists, after identifying the absence of infrastructure that exists for contemporary art within the country.
For its 2022/23 edition, the Prize platform has evolved to include an additional award, now open to emerging artists from the rest of Africa and its Diaspora, in a bid to buttress sustainable careers for a wider range of artists.
The ART X Prize now awards two exceptional emerging artists with funding, tailored mentoring support, and opportunities for cultural exchange, enabling them to complete compelling, ambitious projects that will further their careers and challenge the expectations of audiences across the world.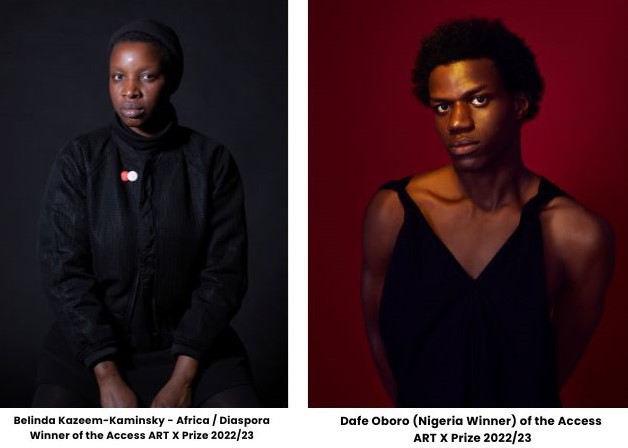 The Prize has been judged each year by an esteemed jury including Ibrahim Mahama, Yinka Shonibare CBE, Professor Bruce Onobrakpeya, Marie-Ann Yemsi, Sokari Douglas Camp CBE, Emeka Ogboh, Wura-Natasha Ogunji, Zina Saro-Wiwa and more.
Previous winners are Chigozie Obi (2021), Etinosa Yvonne (2019), Bolatito Aderemi-Ibitola (2018), Habeeb Andu (2017), and Patrick Akpojotor (2016).
The ART X Prize is sponsored by Access Corporation, the parent company of Access Bank.
About Access Corporation
Access Corporation is a leading multinational financial services group that offers commercial banking, lending, payment, insurance, and asset management services. Headquartered in Lagos, Nigeria, Access Corporation operates through a network of more than 600 branches and service outlets, spanning three continents, 18 countries, and 60 million customers.
The Corporation employs more than 28,000 people in its operations in Nigeria and is currently listed on the Nigerian Exchange Limited (formerly Nigerian Stock Exchange).
The Access Corporation is borne of Access Bank; a business that, over the last 20 years has set its sights on and delivered on ambitious plans to transform the African financial services sector. We represent the next phase of evolution helping customers extend their reach beyond banking, creating a globally connected community and ecosystem, inspired by Africa, for the world.