Director General National Institute for Hospitality and Tourism (NIHOTOUR) Alhaji Nura Kangiwa has urged Nigerians on the need to see their cultural diversity as an opportunity to showcasse the various cuisines from the individual ethnic groups in the Country.
He was speaking at the reception organised for delegates arriving for the 18TH edition of Akwaaba Travel Market holding at the Eko Hotel and Suites Lagos. According to him the variety of cuisine presented at the event which held over the  Weekend at the Wave Beach resort in conjunction with WAKANOW is a reflection of the beauty of the Nigerian cultural diversity which in itself can serve as an angle from whuch to deliver Cultural Tourism to the world.
Over fifty various cuisines and snacks were exhibited at the event with highlights on Amala, Ewedu, Ofe- Owerri, Ofada Rice, Roasted Plantain, Tuwo Shinkafa, Abacha as well as local snacks and drinks such as  Zobo, Fura-de-nunu, Ginger drink, Kunu, Palm wine amongs others.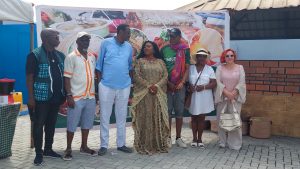 The event which also served as the opening ceremony of the tourism expo had in attendance the Sierra Leone Minister of Tourism and Cultural Affairs, Dr Memunatu Pratt, tour operators and travel agents across  African countries.
Alhaji Nura Kangiwa, Director-General, NIHOTOUR, said the essence of the exhibition was to ensure Africans are conversant with Nigerian cuisines.
Kangiwa noted that AKWAABA was  a viable platform through which the nation's cuisines could be projected and marketed  for global acceptance.
He said the nation was well endowed with nutritious, medicinal and delicious cuisines which a lot of people did not know.
"This year's edition of AKWAABA, we in NIHOTOUR have tried to explore the platform to showcase our cuisines.
"We want the world to know how rich Nigerian cuisines are in terms of nutrition, medicinal properties and more.
"We are proud to be associated with AKWAABA, an expo with the most successful MICE event in Africa and we congratulate Mr Ikechi Uko for the 18th edition of the expo," he said.
Also, Alhaji Adedayo Thomas, Executive Director, National Films and Video Censors Board (NFVCB), urged international participants to leverage  the enormous tourism and cultural potential in Lagos State and Nigeria in gemeral.
He said the Federal Government had enacted the ease of doing business policy and that the Lagos State Government had also invested in creating enabling environment for businesses to thrive.
He noted that these commitment from the federal government and the state government would help to boost tourism businesses.
The  18th AKWAABA Africa Travel and Tourism Market holds from Oct. 30 to Nov. 1.st 2022.