By Cleopatra Eki
Association for Childhood Education Practitioners (ACEP) has appealed to stakeholders, Corporate Organizations NGOs, Civil Society, Organisations and religionous institutions to champion Education with several programmes boost and reduce the out -of -school  children drastically.
National President ACEP, Hajia Islamiat Olaitan Oshodi made call at 4th lnternational Day of Education with the theme "Changing Course Transforming Education" held virtually and in Maryland Lagos. The event in conjunction UNESCO /ACEP with had in attendance, students stakeholders in educational sector NGOs, UNIC,SUBEB and media.
Among the speakers were Dr. Olumide Ige , University of Lagos. Department of Early Childhood Education, Treasures Uchegbu, Convener SpeakingFingers Network, Mrs. Margret Akinware, World Forum Foundation,Mrs. Abosede Adeola Oyeleye Executive Director ,Children Emergency Relief Foundation. Some of the schools who present and performed were St Agnes Primary School, Maryland Nursery and Primary School and St Francis Primary School Lagos ,Tender Care International School and Al-Haleem International schools .  
She advised parents and teachers to train and care for their children properly and leverage on the next generation learning management system, web conferencing tools to enrich programmes in the Education sector. Adding that parents especially should monitor their children's friends, phones and lifestyles. Education is the key to all sectors of society.  
According to her ACEP's main objective is to protect the rights of children by pressing for full implementation of UN on the Conventional Rights of the Child.ACEP collaborates and network with several Ministries, Organizations, and schools Membership cut across the Education sector of the society.
She disclosed that the Association for Childhood Education Practitioners (ACEP) focuses on Child Development and Child Rights, Child Protection, and Safeguarding Children with total eradication of all inhibiting factors militating against the growth and development of the Nigerian Child.
In his message, United Nations Secretary General,António Guterres, said COVID-19 pandemic has caused chaos in education worldwide. Some 1.6 billion school and college students had their studies isnterrupted at the peak of the pandemic — and it's not over yet. 
Today, school closures continue to disrupt the lives of over 31 million students, exacerbating a global learning crisis. Unless we take action, the share of children leaving school in developing countries who are unable to read could increase from 53 to 70 percent.
The turmoil in education goes beyond questions of access and inequality. "Our world is changing at a dizzying pace, with technological innovation, unprecedented changes in the world of work, the onset of the climate emergency, and a widespread loss of trust between people and institutions"-António Guterres added    Conventional education systems are struggling to deliver the knowledge, skills and values we need to create a greener, better and safer future for all. Education is a preeminent public good, and an essential enabler for the entire 2030 Agenda for Sustainable Development.
The time has come to reignite our collective commitment to education. That means investing in comprehensive plans to help students recover from learning losses. "It means putting education at the heart of broader recovery efforts, aimed at transforming economies and societies and accelerating progress on sustainable development. It means financial solidarity with developing countries. And it means embarking on a process of reflection and analysis to identify how national education systems can evolve and transform between now and 2030."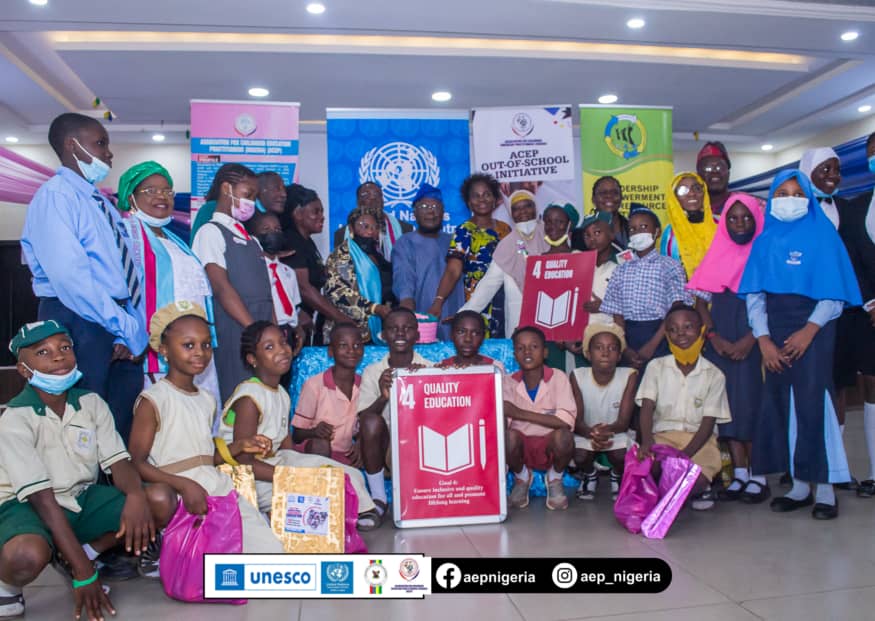 Prof. Micheal Uduogie Qbi Ivowi, chairman Foremost Education Services Limited, said "Education is Human Right, it is a force for sustainable development and it is necessary for peace". Today, we see what lack of education is causing in the North part of the Nigeria.
According to recent report of 262 million of children and youth are out – of – school, while 750 milllion of adults are illiterates, to reverse this number is a herculean tasks. Ivowi added that all these fuel poverty and marginalization,anarchy and insecurity.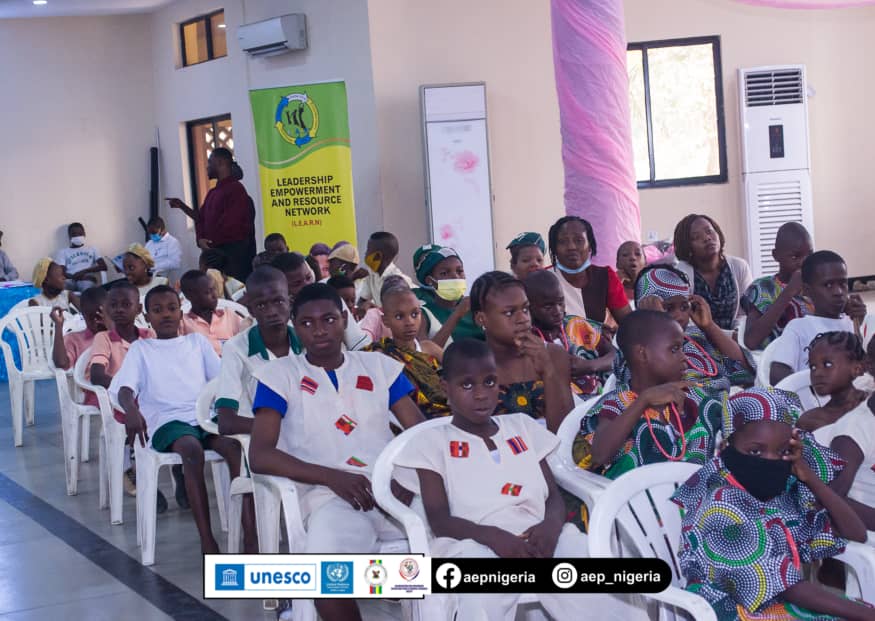 Another speaker and National Coordinator,CSCSD, Dr Tolu Winjobi revealed that for implementation of the Sustainable Development Goals [SDG4] tto be successfully, it requires political will- collaboration of both globally and regionally and the enagement of all governments,civil soiety, private sector, youth development partners and agencies. 
He added that all the groups will need to tackle educational challenges, build educational system that are inclusive , equitable and relevant to all learners. Winjobi said the SDG4 promotes quality education and life long opportunity for all.  Dame Abimbola Fashola former 1st Lady Lagos State and chairman Leadership Empowerment And Resource Network urged all of us to support our teachers and safeguard the planet by unlocking the potemtial of every child by contributing our quota to nation building through education.
She recalled sadly how COVID-19  attacked our planet,health,finance,mental heaith,social lives and cause the death of our loved ones.According to United Nations, COVID-19 may have set the world achievement on Education back about 10 years,as many of children especially girls and wpmen are who need to be in schools and get educated have now become breadwinners of the family. Fashola acknowleged that COVID-19  also brought new possiblities of virtual learning., distance learning and learning at our own paces.people can learn skills on -line using You Tube videos, pinterest, learn and practice data analtytics on different platforms.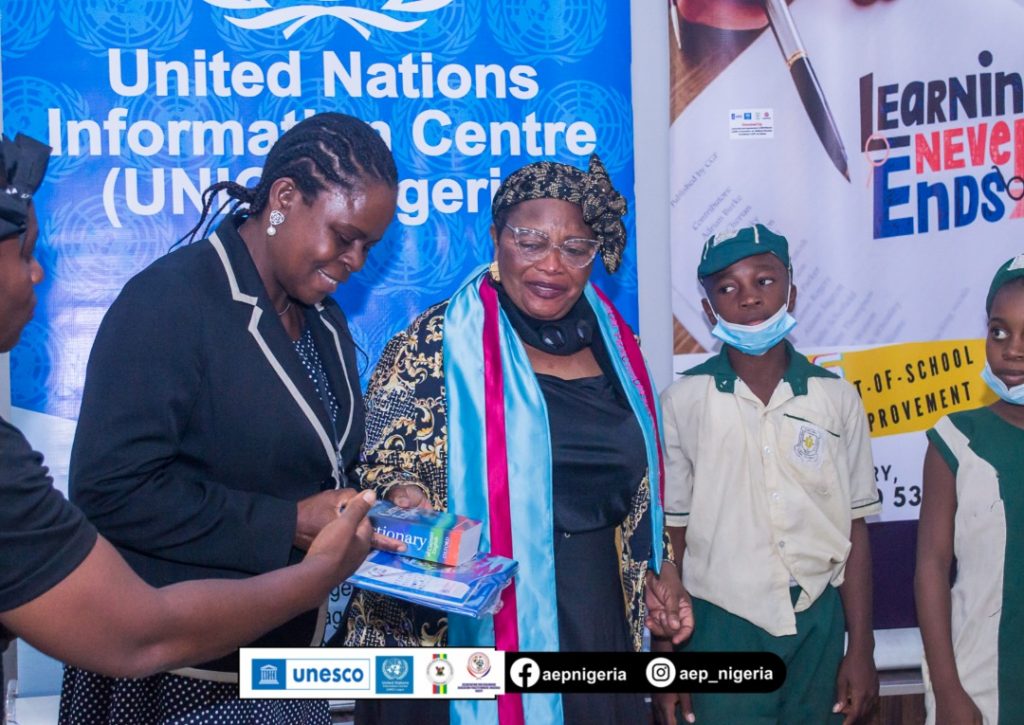 In Keynote Address on The Essential Triggers of Transformation to Build a More Equitable and Inclusive Education System that will Accelerate Progress Towards SDG4, Mr Mamadou Lamine Sow, Senior Programme Specialist and Head of Education Sector, UNESCO Abuja Regional Office said "This year's International Day of Education serves as a platform to showcase the most important transformations that have to be nurtured to realize everyone's fundamental right to education and build more sustainable, inclusive and peaceful futures". 
According to him, the objectives of the Day: Putting a new social contract in education in motion seeks to:Generate debate on the essential triggers of transformations to build more equitable and inclusive education systems that will accelerate progress towards SDG 4, taking on board findings of UNESCO's Futures of Education Report. 
Showcase transformations in action with the potential for scaling to advance digital inclusion, green competences and skills, and gender equality Mobilize political will to address gaping inequalities in access and completion of education, in line with SDG4."We mark the fourth International Day of Education as our world stands at a turning point: gaping inequalities, a damaged planet, growing polarization and the devastating impact of the global pandemic put us before a generational choice: Continue on an unsustainable path or radically change course." – Mr Mamadou Lamine Sow noted.  The Report calls for transforming education to meet the needs and challenges of our future, to meet ecological challenges, meet the challenges of peace, and make sure that no one is left behind.  "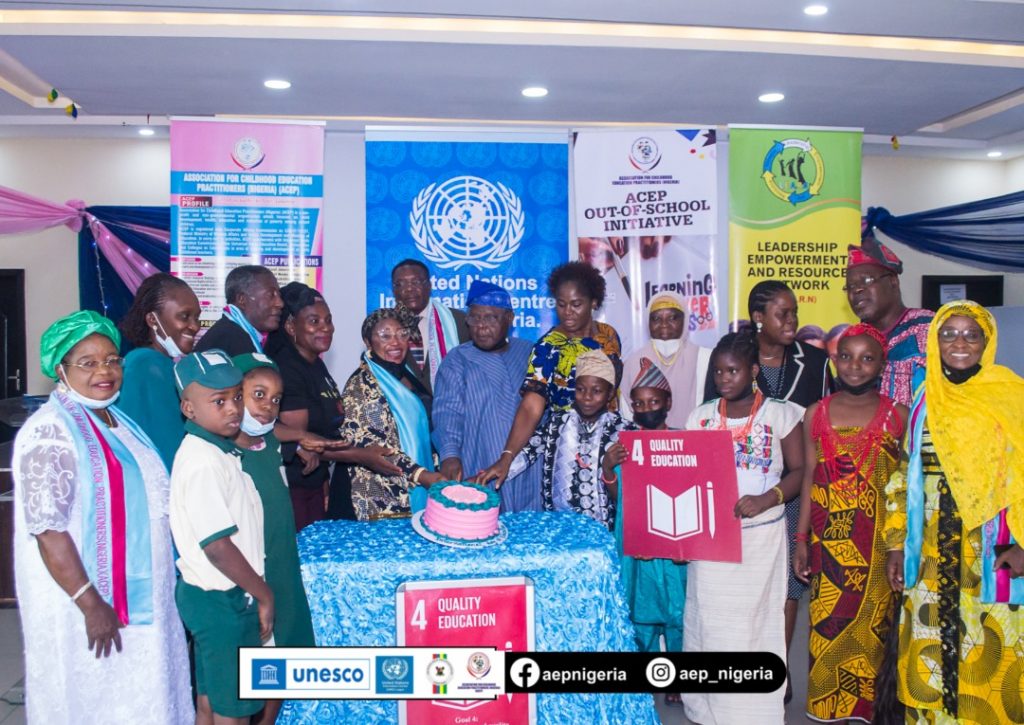 Teach the young generation to care for each other, willingly embrace the idea of diversity, have the empathy to understand the needs of everyone and support anyone. To achieve this, we need to unlearn some of the things we learned – bias, prejudice and divisiveness. School assessment should reflect these pedagogical goals in ways that promote meaningful growth and learning for all students." 
Curricula should be used to counter the spread of misinformation through scientific, digital and humanistic literacies that develop the ability to distinguish falsehoods from truth. In educational content, methods and policy we should promote active citizenship and democratic participation. It proposes the full professionalization of teaching characterized by collaboration and teamwork and where teachers are recognized for their work as knowledge producers and key figures in educational and social transformation.
Schools should be protected educational sites because of the inclusion, equity and individual and collective well-being they support – and also reimagined to better promote the transformation of the world towards more just, equitable and sustainable futures. Schools need to be places that bring diverse groups of people together and expose them to challenges and possibilities not available elsewhere. 
The recommendation also calls for research and innovation, and contributions should be welcomed from everyone – from teachers to students, from academics and research centres to governments and civil society organizations.  Universities and other higher education institutions should support research and the advancement of science to being a contributing partner to other educational institutions and programmes in their communities and across the globe; universities that are creative, innovative and committed to strengthening education as a common good have a crucial role to play in the futures of education. 
Though key responsibilities fall on governments whose capacity for the public financing and regulation of education rest. It is essential that everyone participates and be part of the transformation – children, youth, parents, teachers, researchers, activists, employers, cultural and religious leaders and to ensure that no one is left behind- he concluded.